Water dispensers with Firewall® purification that removes up to 99.999% of COVID-19
Our technologically advanced and eco-friendly range of mains-fed water dispensers are the perfect complement to any business workplace environment. They deliver the most highly certified Firewall® UVC COVID-secure purification, BioCote® antimicrobial protection† and hands-free operation to keep you safely hydrated.
†BioCote® has not been tested or proven effective against SARS-CoV-2.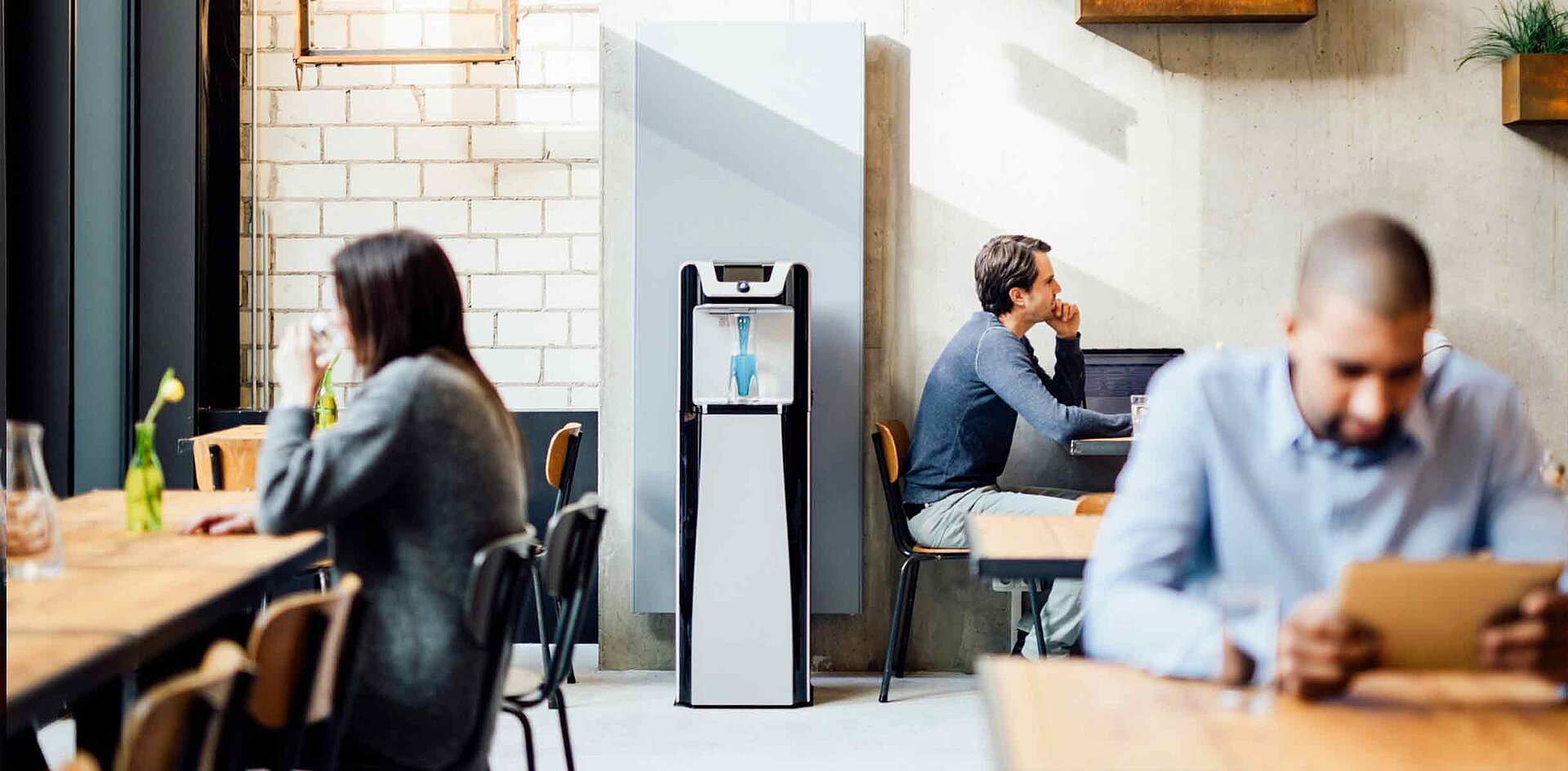 Learn more about our office water dispensers
Select the right water dispenser for your workplace, our products adapt to your needs and budget
Our variety of office water coolers provide the most innovative features to keep your workforce safely hydrated with great tasting water. Enjoy a combination of cold, ambient, hot, extra hot and sparkling from flexible machines including freestanding, countertop, wall-mounted, and taps options.
Not sure what you need?
Tell us what you're looking for and we'll find the right solution for you.
Rent or buy water dispensers to match your needs
Rental
Enjoy complete peace of mind with all our service packages:
Free and simple installation without disrupting your day
Regular maintenance to keep your products performing as its best
Low monthly costs and flexible contracts
Account manager and engineers there when you need them
Buy
If you'd prefer you can buy and enjoy total control:
One time cost and you own outright
Enjoy complete flexibility with what you do with the product
Service cover available so you can enjoy all the benefits of renting
Free and simple installation without disrupting your day
What people say about Waterlogic
Why choose a plumbed-in freestanding or countertop water dispenser?
Unrivalled purity

Choose our unique 4-step hygiene process to experience filtered water with unrivalled purity, up to 99.999% COVID-secure and great tasting water.

Mains water connected

Plumbed-in dispensers that are connected to your building's mains water supply providing limitless access to water for the whole office.

Flexible to fit any environment

Choose between a countertop or freestanding version, depending on your workplace and your requirements.

Many options, one machine

Many of our models provide multiple types of water from one machine. Our WL7 Firewall® allows you to enjoy 5 water types, including sparkling and extra hot, all from one machine.
Unlimited hygiene & taste
Free from contamination, the best drinking water can be for you, your employees and your business.
99.9999%
Firewall ® UVC purification technology eliminates up to 99.9999% of bacteria and viruses from water and it is guaranteed effective against COVID-19.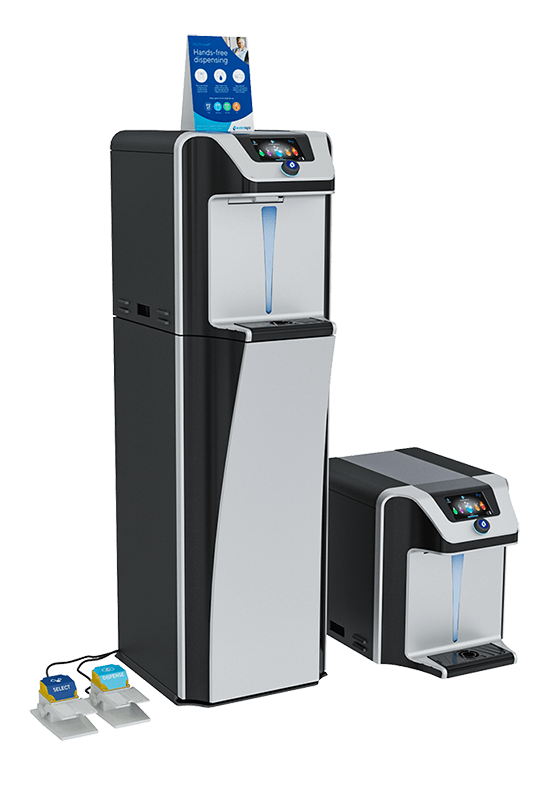 Enjoy unrivalled water purity and security
Hands-free water dispensing combined with social distancing measures and the powerful combination of Firewal ® UVC purification and BioCote ® antimicrobial protection help you achieve heightened hygiene in your office. Our foot pedal options remove the need to touch buttons or dials, meaning less opportunity for germs to spread between users.
BioCote ® has not been tested or proven effective against SARS-CoV-2.
Enjoy safe touch-free hydration
Rent or buy a new water dispenser with touchless foot-operated pedals to provide unrivalled water purity and hygiene for your office when you need it most. Our hands-free solutions provide hands-free access to pure, great-tasting water to keep you safely hydrated.
Frequently Asked Questions
Find the answers to your frequently asked questions about water dispensers below.
What is a water cooler / dispenser?

A water cooler or dispenser is a machine that dispenses safe, filtered drinking water on demand typically in offices and workplaces. A mains-fed dispenser is plumbed into an existing water supply to provide an unlimited stream of safe drinking water. A bottled water cooler provides a flexible hydration solution for areas without a mains water supply, and uses large bottles of naturally-sourced water.

Traditional water coolers and dispensers can often be cheaply made, have limited options and be bad for the environment. With a Waterlogic water dispenser not only is each machine made with high quality materials and users can choose between Ambient, Cold, Hot, Extra Hot and Sparkling water you can also enjoy unique technology that delivers unrivaled water purity and protection.

How does a water cooler work?

Plumbed-in water dispensers draw water from a mains supply that is connected to the machine. As the water is pulled into the system, it passes through a two-stage activated-carbon filtering process. Carbon removes chlorine, sediment, volatile organic compounds (VOCs), taste and any odour to the water. Bottled dispensers use a large bottle of pre-filtered, naturally-sourced water. Both types of dispenser will then release a stream of safe drinking water once a button, tap or level has been activated by the user.

Can water dispensers work without electricity?

Here at Waterlogic, we offer a range of different water dispensers designed to suit all requirements. All of our plumbed in water coolers require a connection to a power supply to provide great tasting filtered drinking water, but some of our bottled water coolers can be operated without an electrical connection. However, we do advise that units are regularly connected to a power supply to ensure the water is chilled correctly. Our skilled and experienced installers can help find the perfect location for your water dispenser.

How do you use a water dispenser?

Waterlogic water dispensers couldn't be simpler to use. Just press a button or use our hands free dispensing to fill your glass with great tasting filtered water. Depending on the model of water dispenser chosen, a range of options are available, including Ambient, Cold, Hot, Extra Hot and Sparkling. These are all easily selected using the simple controls on the machine.

Where to buy water dispensers?

Here at Waterlogic, we have a range of water coolers available to buy that meet all requirements. Our water dispensers are suitable for use across a range of different sectors, including hospitality, education, healthcare and offices. With our expertise, we can help you find the perfect solution for your hydration needs. We have locations across the UK to provide a local service at a national level.

How long do water dispensers last?

Water dispensers can last for many years with the right care and servicing. That's why we offer a twice-a-year servicing and deep clean to ensure your water dispensers are working to the best of their ability all year round.

Are water dispensers safe?

Water dispensers are safe – so long as they are regularly cleaned and looked after in their working environment. For added safety with our Firewall range, you're protected by 4 stages of filtration – our carbon filter with contaminant reduction, Firewall purification, BioCote working around the dispensing nozzle, the water reservoir and the filter housing to eliminate germs. Our patented Firewall technology eliminates up to 99.9999% of bacteria, viruses and cysts such as Legionella, Salmonella, E.coli, Hepatitis and Rotavirus from drinking water, keeping you safely hydrated at all times.

Are water dispensers worth it?

If you're looking for great tasting, freshly filtered, sustainable and hygienic hydration at work then water dispensers are definitely worth it for your workplace. We have a wide range of water dispensers for your specific needs, be it a small office space or a factory with 200+ staff. With Waterlogic you can even choose from Ambient, Cold, Hot, Extra Hot and Sparkling and there are high-capacity office water dispensers for the busiest workplace.

Do water dispensers filter water?

Waterlogic's range of water dispensers are designed to purify water straight from the source. Our water dispensers include a high-performance carbon filter that removes contaminants and neutralises bad taste and odour, while allowing naturally occurring minerals to pass through the filter. Our filters are eco-friendly, with 100% biodegradable cartridges and plastic housing that can be re-used with a new carbon element.
Service you can rely on with Total Care
We design, manufacture, distribute, install, and service our own water dispensers, so you can enjoy unparalleled product quality and highly responsive, comprehensive services, all under one roof.
Easy installation

Let us do the hard work for you. Our fully qualified technicians install your water cooler where and when you need it.

Regular servicing

We visit regularly to sanitise your dispenser and replace filters to ensure trouble-free operation and the highest quality water.

Professional maintenance

There's no need to worry. Our responsive call-out service will fix it should something should go wrong.

Nationwide coverage

Our friendly customer service team provide a responsive local service on a national scale to ensure your needs are being met.