The Right Choice for Government
Waterlogic offers you the world's first and only COVID-secure water dispenser plus these additional benefits:
US Country of Origin products
Predictable fixed invoice
Workforce protection/water safety
Hydrate your coworkers for less
Hands-free dispense options
Reduce your reliance on plastics
No bottles to order or store
World's largest provider
Dedicated government team
Endless supply of purified drinking water
No injuries or spills from lifting heavy bottles
The world's first COVID-secure water dispenser
Be part of the future - Join the Federal Green Challenge
23.8 billion
That's how many single-use plastic bottles Waterlogic have saved from going into landfill or our oceans each year.
The world's most sustainable water dispensers
We believe that single-use plastic and energy inefficiency should be a thing of the past.
Of the one million plastic bottles bought every minute, only 9% are recycled and many water dispensers are inefficient with their energy output. Waterlogic's workplace water solutions can help you reduce your reliance on single-use plastic and save on energy. Learn more
ADA Compliance
The WL2 FW is ideal for those who are disabled or who became physically challenged.
The WL2 FW unit meets the Accessibility Guidelines for the Americans with Disabilities Act (ADA).
With Waterlogic, you're in safe hands
The world's first COVID-secure water dispensers
Multi-stage advanced filtration
Waterlogic's filters are certified to stringent standards by IAPMO R&T and to NSF/ANSI-53 for the reduction of lead, asbestos, and cysts, meaning they offer the best possible filtration.
---
BioCote® antimicrobial protection
BioCote® built-in antimicrobial protection restricts the growth of bacteria and mold around the dispensing area and filter, reducing the potential for cross-contamination and keeping the dispenser fresher and cleaner for longer.
---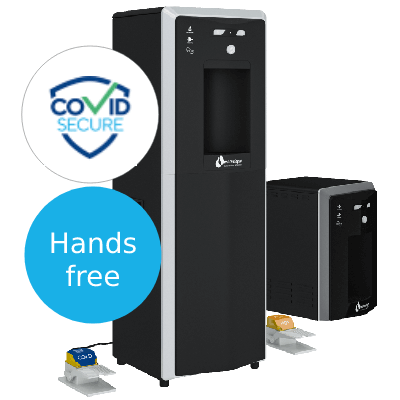 Firewall® UVC unrivaled purification
Waterlogic's patented Firewall technology utilizes a highly effective UV purification system to purify the water up to 99.9999% bacteria free and acts as a final barrier to pathogens right at the point of dispense.
---
COVID-secure
Firewall technology has been rigorously tested by a team of microbiologists from the University of Arizona, and test results have demonstrated that Firewall is effective at inactivating the human form of the COVID-19 strain.
---
Waterlogic certifications
<script src="//widget.trustpilot.com/bootstrap/v5/tp.widget.bootstrap.min.js" async></script>
"Easy and safe to use for our students and staff in this unprecedented time."
"Great situation, great set up, great reps..... all around a total win. Very happy and would highly recommend their services to everyone!!"
"Fantastic from start to finish and I know that the future service provided on the water unit during the contract will not disappoint. Thank you Waterlogic for providing me hassle free setup and my employees and patrons the most "delicious water ever." (As stated by an employee!"
"We love our Waterlogic system! Everyone on our team loves our new water systems, the sparkling water, hot water and room temperature features are great. We also we extremely happy with the installation and service!"
Filtration equipment solutions for the Government sector
Our solutions cater to all needs and budgets. If you're not sure what is right for you, simply get in touch and one of our water experts will follow-up shortly.