Touchless water dispensers that enhance workplace hygiene
Whether you'd like to buy a new, touchless water dispenser or upgrade your current Waterlogic dispenser, we have a variety of contactless solutions to meet the needs of your business. From easy-to-use foot pedals to innovative infrared sensors, our hands-free solutions provide touchless access to clean, great-tasting water to keep you safely hydrated in the workplace and reduce the spread of germs.
Our touchless water dispenser range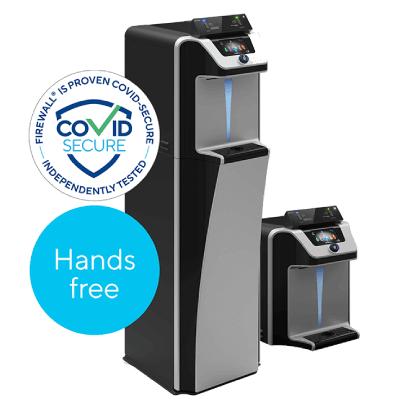 WL7 Firewall®
Features:
Serves 1 - 50 users
COVID-secure Firewall® purification
Ice Bath for ice-cold water
Hands-free operation available
Freestanding & countertop models
1 machine with many water options
BioCote® surface protection†
Discover more
WL2 Firewall®
Features:
Serves 1 - 30 users
COVID-secure Firewall purification
BioCote® surface protection†
Hands-free operation available
Freestanding & countertop models
ADA compliant
Discover more
Security and quality with a contactless water dispenser
Hands-free dispensing for added peace of mind

Our hands-free solution means there's no need to touch buttons or dials, so there's less opportunity to spread germs in the office. Our foot pedals and IR sensors can be added to any Waterlogic freestanding dispenser.

Protect your workplace with Waterlogic

Firewall® UVC technology purifies water up to 99.9999% bacteria-free and is scientifically proven to be effective against the human strain of COVID-19.

Save money

Enjoy unlimited, fresh, purified water all year long with no nasty surprises. In the rare event that you have an issue with your machine, with a total care package we will provide your machine with no-cost repair

Reduce your CO2

With our mains-fed water dispensers, you can drastically reduce your business' plastic waste, environmental pollution, and carbon emissions.
Not sure what you need?
With our product finder you can easily choose the ideal touch-free water cooler for your business.
Frequently Asked Questions
What is a hands free water dispenser?

A water cooler or dispenser is a machine that dispenses safe, filtered drinking water on demand typically in offices and workplaces. A mains-fed dispenser is plumbed into an existing water supply to provide an unlimited stream of safe drinking water. A bottled water cooler provides a flexible hydration solution for areas without a mains water supply, and uses large bottles of naturally-sourced water.

Traditional water coolers and dispensers are often cheaply made, have limited options and can be bad for the environment. With a Waterlogic water dispenser not only is each machine made with high quality materials and users can choose between Ambient, Cold, Hot, Extra Hot and Sparkling water, you can also enjoy unique technology that delivers unrivaled water purity and protection.

A hands-free water cooler provides safe, filtered water without the user needing to push any buttons or dials. The user operates the machine using innovative foot pedals that minimizes the risk of germs spreading between colleagues.

How does a touchless water dispenser work?

Our touchless water dispensers are operated using a foot pedal or infrared system that can eliminate the need for users to touch the machine with their hands. Foot pedals are clearly marked to signify which water type they operate. Users simply step on the preferred pedal to release a stream of water. An infrared sensor allows for the dispensing of water with the wave of a hand. Depending on the model chosen, the options include Cold, Sparkling, Ambient, Hot, and Extra Hot.

Are touchless water dispensers safe?

Waterlogic touchless water dispensers are completely while they are correctly serviced and maintained. Touchless water dispensers remove the need for users to touch any buttons or dials, which minimizes the opportunity for germs to spread between colleagues. For added safety, combine with our Firewall technology range to eliminate up to 99.9999% of bacteria, viruses and cysts, and with our BioCote purification that works around the dispensing nozzle, the water reservoir and the filter housing to eliminate germs.

Are hands-free water dispensers worth it?

Hands-free water dispensers are ideal for any business looking to provide their staff and customers with great tasting, freshly filtered hydration around the clock. Waterlogic's range of dispensers are designed to meet the needs to all businesses, whether it be a small office space or a factory with 200+ staff. Waterlogic dispensers are available in options providing cold, sparkling, ambient, hot, and extra hot water, as well as high-capacity options for high-traffic areas.

How long do hands-free water dispensers last?

Contactless water dispensers can continue to provide great tasting hydration for many yearswhile they are correctly cared for and serviced. Waterlogic offers twice-a-year servicing and deep clean to ensure your water dispensers are in working order all year round.

Do contactless water dispensers save money?

Our range of contactless water dispensers can help you to save between 30-70% of your water costs. We have many options available to suit your requirements, all of which can help you to cut down on water and energy costs. Our water coolers automatically go into power-saving mode, reducing energy costs for your business. We offer fixed monthly rates on all of our rental plans which means there are no hidden costs.

Can contactless water dispenser work without electricity?

Waterlogic contactless water coolers require a connection to a power supply. Our units enter a power-saving mode when not in use to reduce your energy usage, and we advise that units are continually connected to a power supply to ensure the water is chilled correctly. Our skilled and experienced installers can help find the perfect location for your water dispenser.

Do touchless dispensers filter water?

Waterlogic's range of touchless water dispensers use your building's mains supply and filter it using a high-performance carbon filter. This removes contaminants and neutralizes bad taste and odor, while allowing naturally occurring minerals to pass through the filter. Our filters are eco-friendly, with 100% biodegradable cartridges and plastic housing that can be re-used with a new carbon element.

Where to buy hands-free water dispensers?

Innovative hands-free water dispensers are available online with Waterlogic. Our range of dispensers are suitable for use across various sectors, including hospitality, education, healthcare and offices. Use our product finder to match with your perfect model, or call us to speak a member of our team today. We have locations across the USA to provide local service at a national level.
What people say about Waterlogic
"Our surgical center was looking for a way to reduce infection and contamination, and Waterlogic's team delivered its hands-free WL2 FW Tower along with foot pedals".
"This is a very good product. Water tastes better than out of the bottle at the store and is very affordable."
"Thank you so much for the wonderful customer service. I appreciate how quick the representative handled everything and took care of our issues. Thank you again!"
The benefits of touchless dispensing
Reduce the spread of germs

Reduce the risk of cross-contamination between users with hands-free dispensing.

Easy to use

Innovative foot pedal or infrared dispensing with clearly marked labels. Enjoy easy access to great-tasting water.

Simple installation

Simple retrofit by our qualified technicians means there is no need to replace your current dispenser.

For any environment

Our hands-free dispensers are expertly installed by our qualified technicians wherever you want in any office or business environment.
Touch-free dispensing enabled by infrared (IR) controls
Find out how our innovative technology works
Enjoy safer hydration with our IR dispensing modules. Our infrared sensors prevent the need for any contact with the machine when dispensing water. Simply wave your palm in front of your chosen water selection and receive great-tasting hydration instantly. All touchpoints between the user and the water dispenser are eliminated, allowing less opportunity for germs to spread between users.
Enjoy safer hydration with our hands-free solution
Choose safer foot-pedal operated dispensing
Reduce the spread of germs with our completely hands-free foot pedals. Our foot pedal options are clearly coded with the different water options available, ensuring the user is able can keep a safe distance and prevent the spread of germs. These can be retrofitted to your existing dispenser, offering a safer hydration solution.
Protect your workplace with Waterlogic
99.9999% purity
Firewall® UVC technology purifies water up to 99.9999% bacteria-free and is scientifically proven to be effective against the human strain of COVID-19.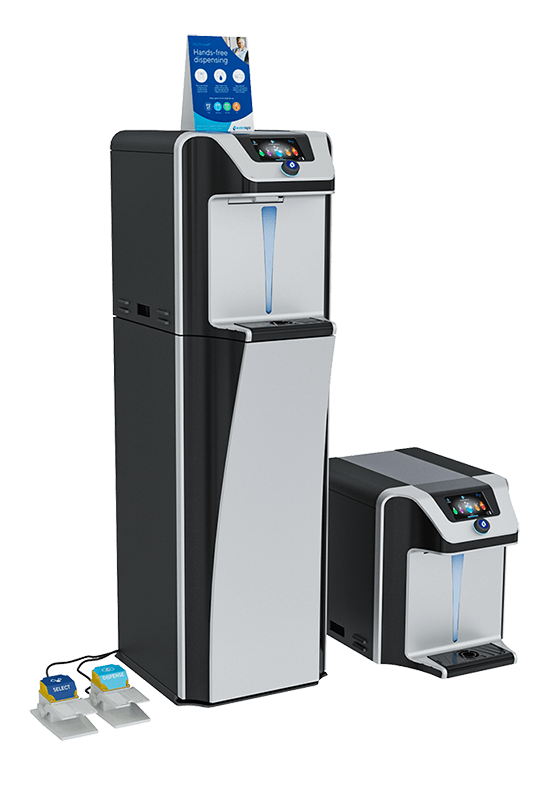 BioCote®† inhibits the growth of microorganisms such as bacteria and mold that may cause odors.
Hands-free dispensing, together with social distancing measures and the power of Firewall® UVC COVID-secure purification, helps you achieve heightened safety from infection in the workplace.
Our foot pedal options remove the need to touch buttons or dials, meaning less opportunity for germs to spread between users. Combined with BioCote® product preservation technology†, which inhibits the growth of microorganisms on surfaces, you'll have everything you need at your fingertips to guarantee total peace of mind.
†BioCote® silver ion technology protects surfaces from odour- and stain-causing microbes. BioCote® does not protect users or others against bacteria, viruses, germs or other disease-causing organisms. This technology is not a substitute for good cleaning practices.
The world's most highly certified water dispensers
Our commitment to purity, quality, and security is backed by independent third parties. We strive for excellence in everything we do here at Waterlogic. Our machines have been tried, tested, and approved by the world's top standards, so you have complete confidence in our products.
NFS Protocol P231 Microbiological Water Purifiers
US EPA Guide Standard for Microbiological Water Purifiers
NSF/ANSI 372 for lead-free compliance
NSF/ANSI 55 Class A Ultraviolet Microbiological Water Treatment Systems
NSF/ANSI 42 Drinking Water Treatment Units Aesthetic Effects
NSF/ANSI 53 Drinking Water Treatment Units Health Effects
CSA B483.1
Certificates may vary depending on different models or products.
Helpful information and resources