Instant hot and cold water for busy work environments
When you need chilled and hot water for your office, warehouse, or catering kitchen, our hot and cold range provides an energy and time-efficient solution to keep up with the demand for tea, coffee, and other drinks throughout the day.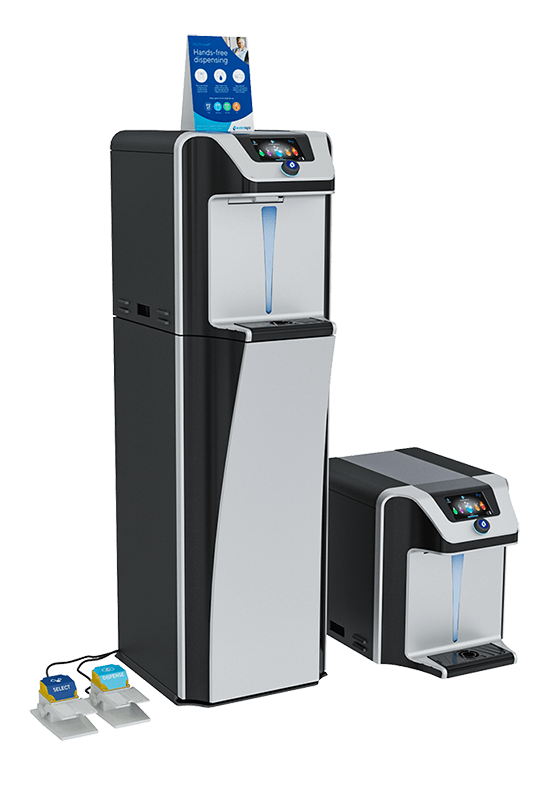 Our hot and cold water dispenser range
Still not sure what you need?
We help you find the perfect drinking water solution for your office in just a few clicks with our new product finder.
"Thank you so much for the wonderful customer service. I appreciate how quick the representative handled everything and took care of our issues. Thank you again!"
"We recently had a Keurig K2500 installed at our office. AJ Ghant was our service technician. He was so fast and very professional, a great assest to Waterlogic! We are beyond pleased here at OTA Compression!"
"This is a very good product. Water tastes better than out of the bottle at the store and is very affordable."
Benefits of using hot and cold water dispensers in your office
Stylish design

Unlike traditional, awkward boiling water dispensers, at Waterlogic you will find modern hot water solutions that feature sleek, polished designs and high-tech functions, making them visually appealing as well as a highly practical addition to any office

Safe to use

With specific measures in place to stop the boiler from boiling dry and programmable temperature options, you can be sure you have instant hot water when you need it without overheating or damaging your system.

Energy saving

Our plumbed-in boiling water dispensers are energy efficient and connect directly to your water line, making use of a readily available water source.

Cost efficient

By using a source of water that your business is already paying for, our systems prevent unnecessary extra costs. With flexible rent options, your employees can enjoy fresh, great-tasting water on any budget and every day.
5 water options in one compact machine: from instant chilled water to extra hot water in seconds, the perfect solution for any drink need in the office.
5 in 1
Only the WL7 Firewall provides instant cold, hot, extra hot, sparkling, and room temperature water from one machine as well as providing the most purified water for any workplace with Firewall® UVC purification.
---
Lots and lots of cold water
Ice Bath technology is an innovative cooling system that allows the WL7 Firewall® to deliver significantly more ice-cold water than any other drinking water machine in its class.
---
Reduce your plastic waste
WL7 Firewall® is a bottleless water dispenser, meaning no plastic bottles are used, helping to reduce your plastic waste.
---
Limitless water
Our high-volume machines are mains-fed, offering limitless drinking water for offices with high hydration demands throughout the whole day.
---
Choose hot or cold water with touchless dispensing
Our all-in-one water units offer a hands-free dispensing solution, our foot pedal options remove the need to touch buttons or dials, meaning less opportunity for germs to spread between employees. This easy-to-install foot-operated system combined with social distancing measures and the powerful Firewall® UVC COVID-secure water purification system and BioCote® antimicrobial protection† for surfaces, help you achieve heightened safety from infection in the workplace.
†BioCote® has not been tested or proven effective against SARS-CoV-2.
Never wait for the kettle to boil again
2 days
On average, that's how many working days each employee wastes per year, waiting for the kettle to boil.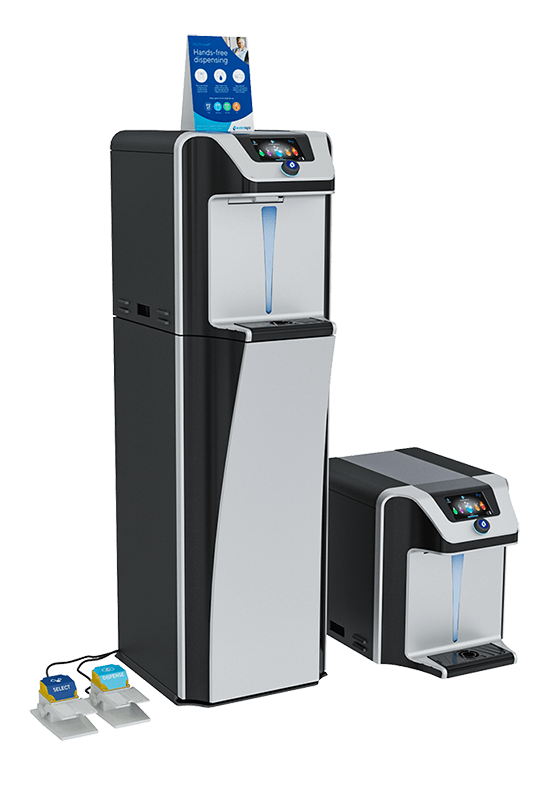 Enjoy your tea, soup, and meals, ready in an instant
Choosing a hot water dispenser with extra hot options is the perfect replacement for office kettles, dispensing large quantities of hot water in an instant. Staff no longer need to wait for hot water, reducing idle time at work and increasing efficiency and productivity.

Not only will you save time, but you'll also save energy. As our machines only heat the amount of water required, they enable you to reduce your energy consumption which has a positive impact on both the environment and on your energy costs.
Choose one of our Firewall® UVC models to enjoy multi-stage water filtration and advanced UV purification. Our unique purification process means the water is first passed through a carbon filter, which absorbs impurities and eliminates unpleasant odors and unnecessary additives. Next, Firewall® UVC is used to eliminate up to 99.999% of viruses, including COVID-19. Finally, the silver additive, BioCote®, protects key surfaces to act as a final defense against microorganisms.