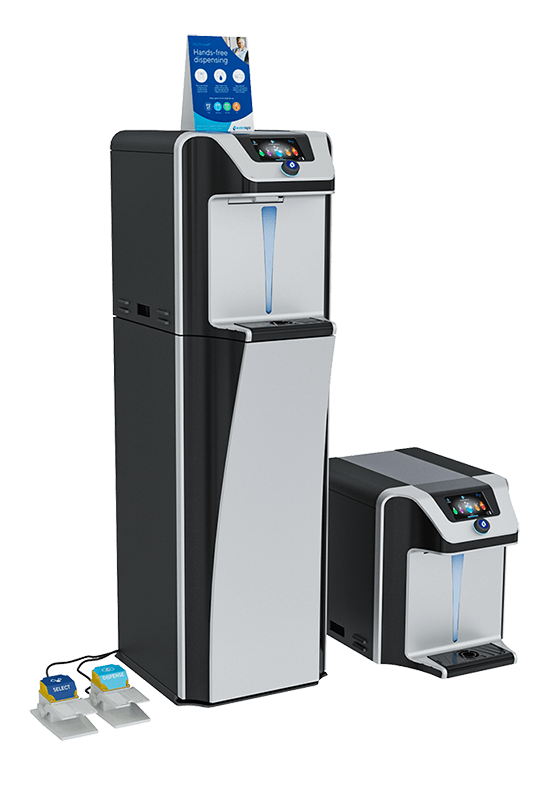 Sparkling water dispensers for offices
Whether you're looking for a solution for employees or visitors, our freestanding and countertop sparkling water dispensers are the best way to enjoy still and sparkling water with the peace of mind, purity, and protection that Firewall® and BioCote® provide without a single plastic bottle in sight.
Touchless dispensing system

Instant hot, cold, and sparkling options

Flexible rent or buy options available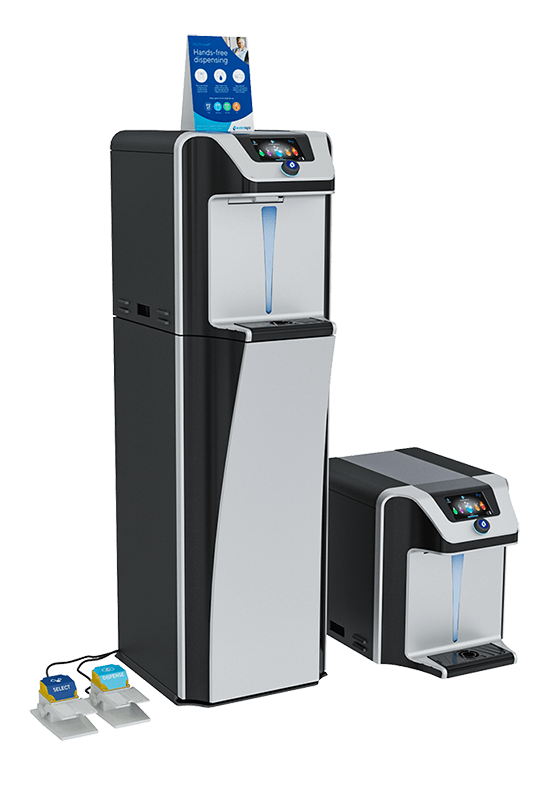 The best sparkling solution
Our bottleless sparkling water dispenser range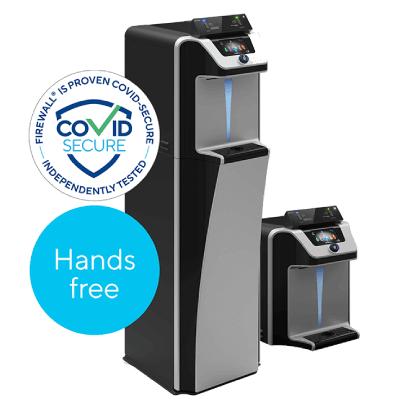 WL7 Firewall®
Features:
Serves 1 - 50 users
COVID-secure Firewall® purification
Ice Bath for ice-cold water
Hands-free operation available
Freestanding & countertop models
1 machine with many water options
BioCote® surface protection†
Discover more
WLH2 Firewall® Bar Classe Series
Features:
Serves 100+ users
High-flow performance filtration
COVID-secure Firewall purification
HACCP certified
Ice Bath cooling technology
Freestanding & countertop models
Discover more
Not sure what you need?
Tell us what you're looking for and we'll find the right drinking water solution for your business.
Why businesses choose Waterlogic sparkling water dispensers?
Not just sparkling

With a large capacity CO<sub>2</sub> tank, this high capacity bottleless water cooler does more than just sparkling water. This model also provides you with cold, hot, and extra hot water options.

Wide range

With Waterlogic you can choose a combination of cold, hot, extra hot, ambient and sparking water options across our range of freestanding, countertop and integrated dispensers.

Environmentally friendly

All our sparkling water dispensers are bottle-free and soft plumbed into your building's mains water supply. This means no more plastic bottle deliveries are needed helping you remove plastic waste and reduce CO2.

Advanced technology

Created to dispense pure-tasting water, Waterlogic's high-tech sparkling water machines include a multi-stage filtration system, in-tank UV light, and BioCote antimicrobial protection, providing the most purified carbonated water in an instant.
What people say about Waterlogic
"This is a very good product. Water tastes better than out of the bottle at the store and is very affordable."
"The water has great taste, and the tech was very nice, fast and clean. I belive we made need another machine! Thanks for the service"
"We love it! Our students and staff members love it! Best decision ever!"
Frequently Asked Questions
Limitless sparkling water for busy offices
93%
According to the Hydration in the Workplace survey, 93% of respondents feel being hydrated positively impacts concentration and productivity.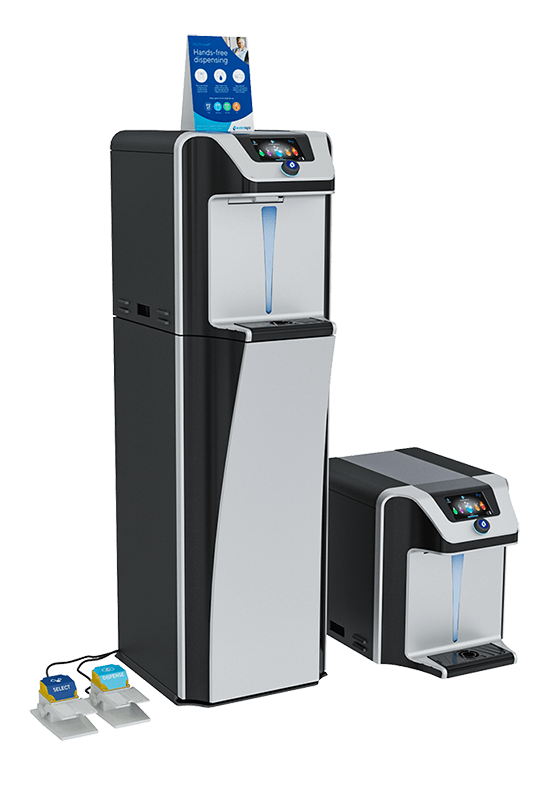 Give your colleagues and visitors the best
More and more of us are looking to enjoy the great taste and experience of carbonated water to brighten our day. It's a perk of the job and one that's known to increase hydration in the workplace, positively impacting wellbeing and productivity.
With Waterlogic's mains-fed water machines, everyone in the office will enjoy highly filtered and Firewall®-purified sparkling water all day without interruptions.
Learn more about the importance of hydration in the workplace
WL7 Firewall®
Why stop at sparkling?
The WL7 Firewall® is an advanced water dispensing system that combines refined engineering and high-tech features in a robust and reliable machine. The WL7 Firewall® (WL7 FW) can dispense up to five varieties of water, including a large volume of ice-cold and sparkling water.
State-of-the-art user experience
The WL7 FW also features an engaging LED screen and a unique selection dial to make dispensing water easier than ever while the back-lit waterfall indicator allows precise dispensing, reducing accidental spillage.
---
Ergonomic dispense area
The open dispensing area offers convenient and easy side access. The tall gap easily accommodates reusable bottles and a wide variety of water vessels.
---
Environmentally friendly
The on-screen bottle saver counter tracks the positive impact on the environment by counting each 500 ml plastic bottle saved. Naturally occurring R600a refrigerant gas, at zero environmental impact, helps to reduce your carbon footprint.
---
Flexible configuration
A versatile base cabinet converts the unit from countertop to freestanding and offers filter and CO<sub>2</sub> storage space.
---
Looking to serve sparkling water at your next event?
If you're running a venue or an event and would like to serve the most purified and best-tasting sparkling water at high volume, for cafes, restaurants, or hotels, then find out how Waterlogic HORECA sparkling water systems may be the perfect solution.
Enjoy safe, hands-free hydration
Stay safe while you stay hydrated using our hands-free pedals. Our touchless solution makes it easy to reduce the spread of germs, using clearly marked foot pedals.
Available with cold, ambient, sparkling, and hot water options, your team can safely enjoy clean, great-tasting water in the workplace.
Whether you want to upgrade your Waterlogic dispenser or acquire a new machine with touchless solution, our experts will give you the right support.
Select a rental plan which includes installation, regular servicing, and maintenance, and make easy monthly payments over a fixed period. Alternatively, purchase your dispenser with an annual service and maintenance agreement. Whichever finance option suits you best, you will receive a first-class customer service experience from the moment you choose Waterlogic.
Easy installation

Before you know it, you will be enjoying great-tasting water at your fingertips. Our expert service technicians do all the hard work for you, installing your new water system at a date and time to suit you.

Regular servicing

Each service includes sanitation and filter replacements ensuring your carbonated water cooler is running smoothly without compromise. Our preventative maintenance ensures a trouble-free operation for total peace of mind.

Professional maintenance

In the unlikely event of a problem, our dedicated team is ready to help. Once our friendly customer service team understands the issue, we'll send our expert technicians to repair your issue as quickly as possible.

Nationwide coverage

We provide local service on a national scale. Wherever you are located across the USA, our dedicated nationwide team of service staff guarantees we can help you and your business wherever you are.