Hydration solutions to suit any construction or refurbishment project
No matter the requirements of the brief, Waterlogic's extensive range of cutting-edge hydration solutions give you the flexibility to choose the right products to fulfill your clients' needs and budget.
Whatever the specification, we have a product that fits
Not sure what you need?
Find the perfect product for your needs with our new product finder.
A bespoke and safe solution tailor-made for your organization
99.9999%
Firewall® UVC purification technology eliminates up to 99.9999% of bacteria and viruses from water and it's guaranteed effective against COVID-19.
Protecting users with innovative technology
Regardless of your work environment, we can build a unique multi-site solution that suits your budget, usage and space and keeps users safely hydrated wherever they are.
Enjoy hands-free hydration
Stay safe while you stay hydrated using our hands-free pedals. Our dispensers reduce the spread of germs in the office with completely hands-free operation using clearly color-coded foot pedals.
Your team can safely choose cold, ambient, hot or sparkling water to enjoy, without ever coming into contact with the despenser.
Reduce plastic waste
23.8 billion
That's how many single-use plastic bottles Waterlogic have saved from going into landfills or our oceans each year.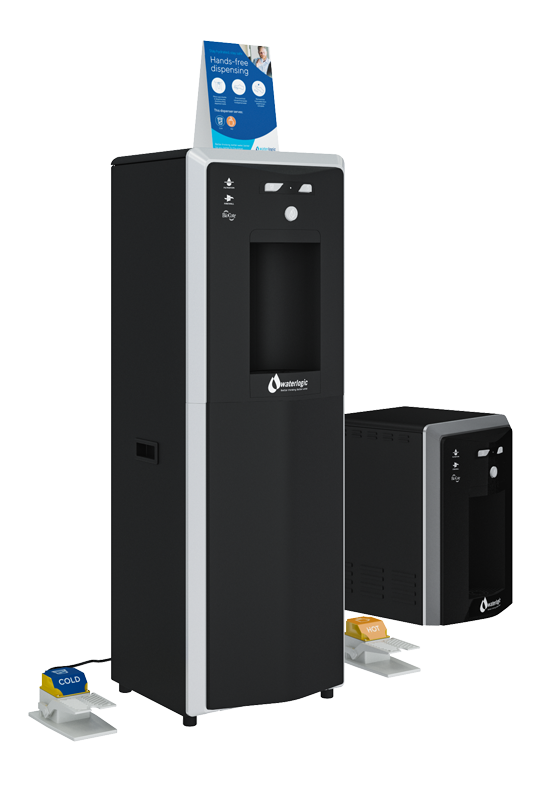 Comprehensive services you can trust
We build long-term relationships with all our customers. To keep your product performing at its best, our comprehensive services provide peace of mind with hassle-free installation and regular service and maintenance from our fully qualified technicians.
The world's most highly certified water dispensers
Our commitment to purity, quality, and security is backed by independent third parties. We strive for excellence in everything we do here at Waterlogic. Our machines have been tried, tested, and approved by the world's top standards, so you have complete confidence in our products.
NFS Protocol P231 Microbiological Water Purifiers
US EPA Guide Standard for Microbiological Water Purifiers
NSF/ANSI 372 for lead-free compliance
NSF/ANSI 55 Class A Ultraviolet Microbiological Water Treatment Systems
NSF/ANSI 42 Drinking Water Treatment Units Aesthetic Effects
NSF/ANSI 53 Drinking Water Treatment Units Health Effects
CSA B483.1
Certificates may vary depending on different models or products.
Helpful information and resources