Public Sector Cooperative Purchasing Programs
Waterlogic makes procurement simple with Cooperative Purchasing solutions to generate rapid savings and purchasing efficiencies. Our multiple options help you get the product you need while maintaining procurement integrity.
Bottleless water dispensers for government and cooperatives
Not sure what you need?
Tell us what you're looking for and we'll find the right solution for you.
Why choose Waterlogic water dispensers for any Public Sector environment?
Waterlogic provides a full range of bottleless water coolers for every requirement, including units that originate from our new state-of-the-art production facility in Grapevine, Texas.
99.9999% Pure

Firewall® UVC technology is tested and scientifically proven to be effective against the human form of COVID-19.

Dependable Supply

Waterlogic will connect directly to your water supply with a hassle-free installation and give you comprehensive servicing to keep your water dispenser in perfect condition.

Eco-friendly

If you choose one of our bottle-free systems, not only will you reduce your plastic waste, our R600a natural cooling gas also reduces your carbon footprint.

Immediate Savings

With an unlimited supply of purified water, our customers typically save between 30-70% off their water cooler costs.
A bespoke and safe solution tailor-made for your organization
99.9999% purity
Firewall® UVC purification technology eliminates up to 99.9999% of bacteria and viruses from water and it's guaranteed effective against COVID-19.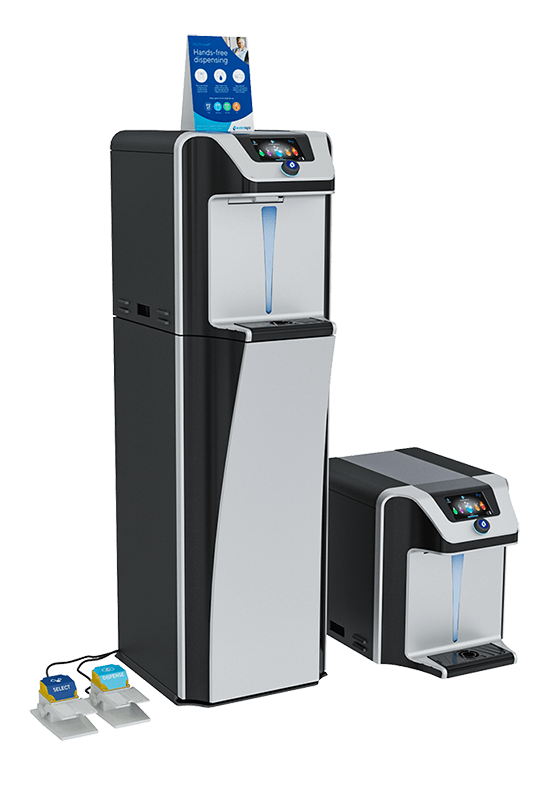 Protecting users with innovative technology
Regardless of your Government environment, we can build a unique multi-site solution that suits your budget, water usage, and space and keeps users safely hydrated wherever they are.
WL7 Firewall®
Satisfy the needs of even the busiest workplaces
The WL7 Firewall® can dispense up to five varieties of water, including ambient, hot, extra hot and large volumes of ice-cold and sparkling water.
COVID-secure purification
Firewall® UVC purification technology acts as a barrier at the point of dispense and safely purifies the water up to 99.9999%, reducing the risk of cysts, bacteria and virus, including COVID-19 (up to 99.999%).
---
Foot pedal dispenser available
Reduce the need for hands touching the machine with added foot pedals. These can be ordered with the machine or can be requested when you contact us.
---
Ice Bath cooling technology
Engineered to deliver glass after glass of highly purified ice-cold water to meet the needs of the most demanding workplaces.
---
Freestanding & countertop models
Available in 2 model choices should you have a preference on the amount of space it requires
---
Hands-free operation to reduce the spread of germs
Stay safe while you stay hydrated using our hands-free pedals. Our dispensers reduce the spread of germs in any environment with completely hands-free operation using clearly color-coded foot pedals.
Your team can safely choose cold, ambient, hot, or sparkling water to enjoy, without ever coming into contact with the dispenser. Already own a Waterlogic dispenser? Contact us to upgrade to hands-free operation.
Comprehensive services you can trust
We build long-term relationships with all our customers. To keep your product performing at its best, our comprehensive services provide peace of mind with hassle-free installation and regular servicing and maintenance from our fully qualified technicians.
Enhance your corporate social responsibility with Waterlogic
Reduce your reliance on single use plastic
23.8 billion yearly
That's how many single-use plastic bottles Waterlogic have saved from going into landfill or our oceans each year.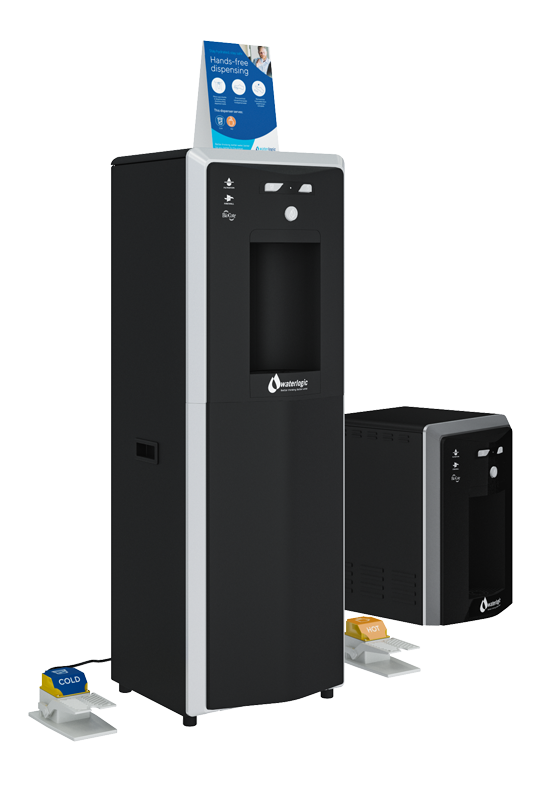 Better for you, better for the planet
Waterlogic offer a range of bottle free water dispensers to allow your workplace to hydrate whilst being kinder to the environment.
The world's most highly certified water dispensers
Our commitment to purity, quality, and security is backed by independent third parties. We strive for excellence in everything we do here at Waterlogic. Our machines have been tried, tested, and approved by the world's top standards bodies so you have complete confidence in our products.
NFS Protocol P231 Microbiological Water Purifiers
US EPA Standard Microbiological Water Purifiers
NSF/ANSI 372 for lead-free compliance
NSF/ANSI 55 Class A Ultraviolet Microbiological Water Treatment Systems
NSF/ANSI 42 Drinking Water Treatment Units Aesthetic effects
NSF/ANSI 53 Drinking Water Treatment Units Health effects
Helpful information and resources