Water dispensers for any factory or warehouse
Water dispensers big enough and strong enough to cope with the busiest of factories or warehouses, Waterlogic's range of mains-fed water dispensers will keep you and your team hydrated throughout any shift.
A choice of water and capacity options covers all preferences and the biggest of premises.
Water dispensers ideal for factories and warehouses
Not sure what you need?
Tell us some details about your venue and we'll help you find the right solution
Why choose Waterlogic water dispensers for your factory or warehouse?
Keep your team hydrated with the purest, safest, and best tasting water.
Up to 99.9999% pure

Firewalll® UVC technology purifies water up 99.9999% and is tested and scientifically proven to be effective against the human form of COVID-19.

Never run out

Our high-capacity machines ensure your team will have all the water they need.

Well built

Being hard-wearing, impact-resistant, and coated with a sturdy finish, the Waterlogic water dispensers are built to survive the toughest conditions.

Stay safe

Hands-free foot operation available to protect your team.
WL7 dispenser provides as much water as you'll ever need
We have a hydration solution to meet any work environment demand.
4.5 Gallons
That's how much cold water can be provided every hour with the WL7 water dispenser.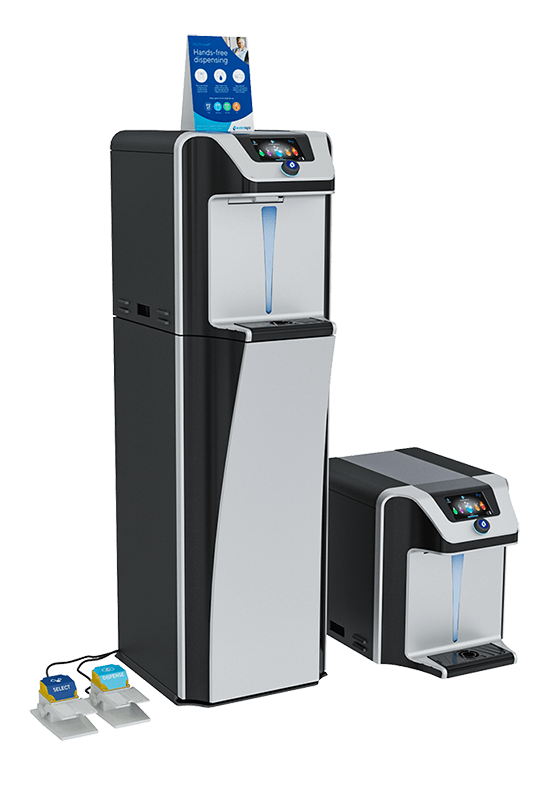 These days, it's all about water quality and hygiene
Innovative and bottle free, the WL7 Firewall® (WL7 FW) is the world's most certified water dispenser it's made to last from the highest quality materials.
Remove 99.9999% of odour and mould causing bacteria while enjoying up to five varieties of water, including a large volume of ice-cold or sparkling.
Hands-free operation to reduce the spread of germs
Hands-free dispensing combined with social distancing measures and the powerful combination of Firewall® UVC COVID-secure purification and BioCote® antimicrobial protection† help you achieve heightened safety from infection in the workplace. Our foot pedal options remove the need to touch buttons or dials, meaning less opportunity for germs to spread between users.
†BioCote® has not been tested or proven effective against SARS-CoV-2.
Frequently Asked Questions
How do bottleless water dispensers for factories work?

Plumbed-in bottleless water dispensers for factories draw water from a mains supply that is connected to the machine. As the water is pulled into the system, it passes through a two-stage activated-carbon filtering process. Carbon removes chlorine, sediment, volatile organic compounds (VOCs), taste and any odor to the water. The dispenser will then release a stream of safe drinking water once a button, tap or level has been activated by the user.

Are Waterlogic water dispensers for factories and warehouses safe?

If used correctly and well cared for Waterlogic water dispensers for factories are perfectly safe. For added safety, you're protected by 4 stages of security – our carbon filter with contaminant reduction, Firewall purification, BioCote working to eliminate germs, and hands-free options to prevent the spread of germs. Our patented Firewall technology eliminates up to 99.9999% of bacteria, viruses and cysts such as Legionella, Salmonella, E.coli, Hepatitis and Rotavirus from drinking water, keeping you safely hydrated at all times.

Are bottleless water dispensers for factories and warehouses worth it?

Waterlogic water dispensers are definitely worth it for organizations looking for great tasting, freshly filtered hygienic water. We have a wide range of water dispensers for your specific needs, be it a small space or a large warehouse with 200+ staff. You can select from different options to suit the needs of your business.

How long do water dispensers for factories last?

Our water dispensers for factories and warehouses can last for many years with the right care and servicing. That's why we offer a twice-a-year servicing and deep clean to ensure your water dispensers are working to the best of their ability all year round.

How much do water dispensers for factories and warehouses cost?

The cost of a Waterlogic water dispenser for warehouses will vary depending on your specific requirements. Our flexible rental and purchasing plans allow you to find the perfect solution for your business without any nasty hidden costs. Take a look at our cost calculator to see just how much your business can expect to pay for your water dispenser.

Do bottleless water dispensers for factories save money?

You can expect to save up to 70% on your water costs by switching to an eco-friendly Waterlogic water cooler for your factory or warehouse. Our dispensers source water directly from your existing water supply, preventing the need for bottles to be purchase and stored, and they automatically enter power-saving mode to reduce energy usage. We offer flexible rental plans with no hidden costs, or you can purchase your machine for a single up-front cost.

Where to buy or rent a water dispenser for a factory or warehouse?

At Waterlogic, we offer a selection of water coolers to rent or buy that are designed to meet your specific requirements. Our range of dispensers are suitable for use across many different sectors, and we have flexible purchasing and rental plans to find your perfect solution. We have many locations across the USA to provide a local service at a national level.

What is the best water dispenser for a factory or warehouse?

The best water dispenser for your factory or warehouse depends on your business's requirements. Here at Waterlogic, we have a selection of different water coolers to suit the needs of all workplaces. Our product finder can help you find the perfect water dispenser for your facility. Alternatively, get in touch with our team and we can help you find the right choice for your needs.
Provide your staff with fresh water and eliminate:
Lifting and storing of heavy water bottles
Accidental water spills when trying to replace big water bottles
Interruptions of water delivery service during your busy work day
Choose the right plan for you
Select a rental plan which includes installation and all service and maintenance, and make easy monthly payments over a fixed period of time. There are no upfront costs or capital outlay, therefore, no depreciation in value. Whichever plan suits you best, you will receive a first-class customer service experience from the moment you choose Waterlogic.
The world's most highly certified water dispensers
Our commitment to purity, quality and security is backed by independent third parties. We strive for excellence in everything we do here at Waterlogic. Our machines have been tried, tested and approved by the world's top standards bodies so you have complete confidence in our products.
NFS Protocol P231 Microbiological Water Purifiers
US EPA Standard Microbiological Water Purifiers
NSF/ANSI 372 for lead-free compliance
NSF/ANSI 55 Class A Ultraviolet Microbiological Water Treatment Systems
NSF/ANSI 42 Drinking Water Treatment Units Aesthetic effects
NSF/ANSI 53 Drinking Water Treatment Units Health effects
Comprehensive services you can trust
We build long-term relationships with all our customers. To keep your product performing at its best, our comprehensive services provide peace of mind with hassle-free installation and regular servicing and maintenance from our fully qualified technicians.
Helpful information and resources