High-tech water dispensers for gyms and spas
Pure, safe and great-tasting limitless water to help your members stay hydrated throughout their workout or spa stay.
Water dispensers ideal for gyms and spas
Not sure what you need?
Tell us some details about your venue and we'll help you find the right solution
Peace of mind guaranteed
High-volume water dispensers designed to keep your members safely hydrated in gyms and spa.
99.9999% purity
Firewall® UVC technology purifies water up to 99.9999% bacteria-free and is scientifically proven to be effective against the human strain of COVID-19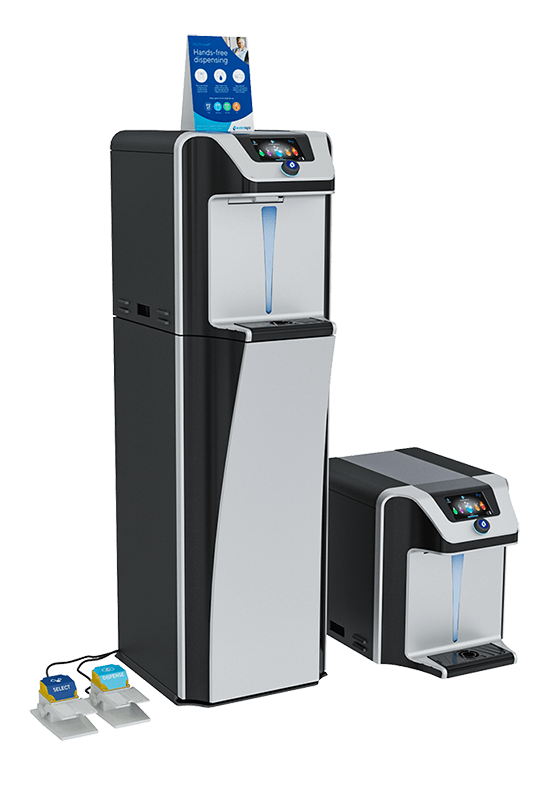 Innovation that protects
Our revolutionary Firewall® technology, coupled with BioCote® antimicrobial protection around the dispensing area, guarantees total peace of mind in your gym or spa. Every drop of water your members enjoy is clean, pure, and refreshing
†BioCote® has not been tested or proven effective against SARS-CoV-2.
Why choose a Waterlogic water dispenser for your gym or spa?
Keep your members and staff hydrated with the purest, safest, and best tasting water.
Provide more options

Provide your members and staff with cold, ambient, and even sparkling options.

Flexible solutions

Our wide range of water solutions are designed to save space, without compromising on quality or functionality.

Stay safe

Hands-free foot operation available to protect your members and staff.

Up to 99.9999% pure

Firewall® UVC technology purifies water up 99.9999%.
What people say about Waterlogic
"Thank you so much for the wonderful customer service. I appreciate how quick the representative handled everything and took care of our issues. Thank you again!"
"We recently had a Keurig K2500 installed at our office. AJ Ghant was our service tech. He was so fast. So very professional. A great assest to Waterlogic!! We are beyond pleased here at OTA Compression!"
"Whole team is fantastic to work with. From the initial call to set up service, and on to the installation, everything went super smooth!"
The WL7 Firewall® can dispense up to five varieties of water, including a large volume of ice-cold and sparkling water. Ideal to satisfy all the hydration needs of even the busiest environments.
99.9999% Purified water
Firewall® UVC purification technology acts as a barrier at the point of dispense and safely purifies the water up to 99.9999%, reducing the risk of viruses, cysts and bacteria.
---
Foot pedal dispenser available
Reduce the need for hands touching the machine with added foot pedals. These can be ordered with the machine or can be requested when you contact us.
---
Ice Bath cooling technology
Engineered to deliver glass after glass of highly purified ice-cold water to meet the needs of the most demanding workplaces.
---
Freestanding & countertop models
Available in 2 model choices should you have a preference on the amount of space it requires
---
Hands-free operation to reduce the spread of germs
Stay safe while you stay hydrated using our hands-free pedals. Our dispensers reduce the spread of germs in any environment with completely hands-free operation using clearly color-coded foot pedals.
Your members can safely choose cold, ambient, hot, or sparkling water to enjoy, without ever coming into contact with the dispenser. Already own a Waterlogic dispenser? Contact us to upgrade to hands-free operation.
Reduce your single-use plastic waste
23.8 billion
That's how many single-use plastic bottles Waterlogic have saved from going into landfills or our oceans each year.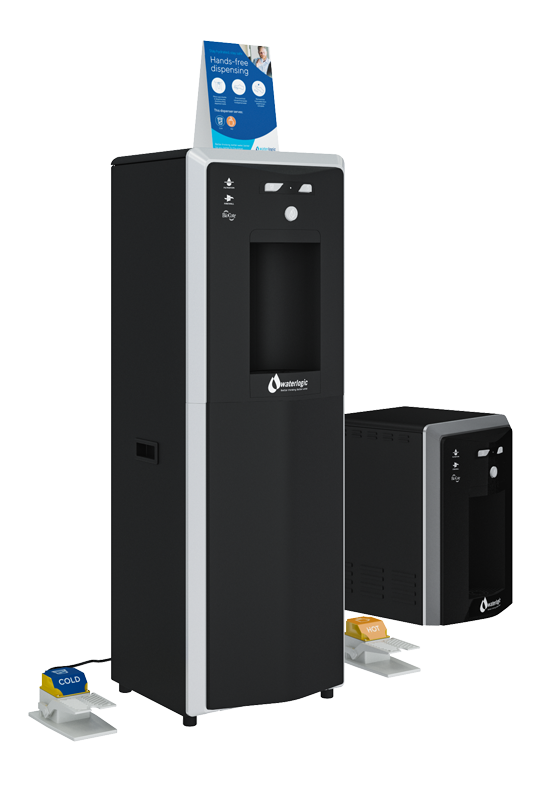 Better for you, better for the planet
Waterlogic offers a range of bottle free water dispensers to allow your staff to hydrate while being kinder to the environment.
Comprehensive services you can trust
We build long-term relationships with all our customers. To keep your product performing at its best, our comprehensive services provide peace of mind with hassle-free installation and regular service and maintenance from our fully qualified technicians.
The world's most highly certified water dispensers
Our commitment to purity, quality, and security is backed by independent third parties. We strive for excellence in everything we do here at Waterlogic. Our machines have been tried, tested, and approved by the world's top standards bodies so you have complete confidence in our products.
NFS Protocol P231 Microbiological Water Purifiers
US EPA Standard Microbiological Water Purifiers
NSF/ANSI 372 for lead-free compliance
NSF/ANSI 55 Class A Ultraviolet Microbiological Water Treatment Systems
NSF/ANSI 42 Drinking Water Treatment Units Aesthetic effects
NSF/ANSI 53 Drinking Water Treatment Units Health effects
Helpful information and resources