Water dispensers for hospitals and healthcare facilities
The safest drinking water system with unrivaled water purity
With our variety of high-capacity water dispensers for hospitals, clinics, and any other healthcare center, you'll have everything you need at your fingertips to guarantee safe hydration. Waterlogic's hygiene-first approach is underpinned by our patented technology ensuring every drop of water you enjoy from our Firewall® dispensers is virtually free from bacteria and viruses like Legionella and COVID-19.
BioCote® antimicrobial surface protection†

Touchless dispensing for a safe hydration

Comprehensive services with rental or buying options
†BioCote® has not been tested or proven effective against SARS-CoV-2.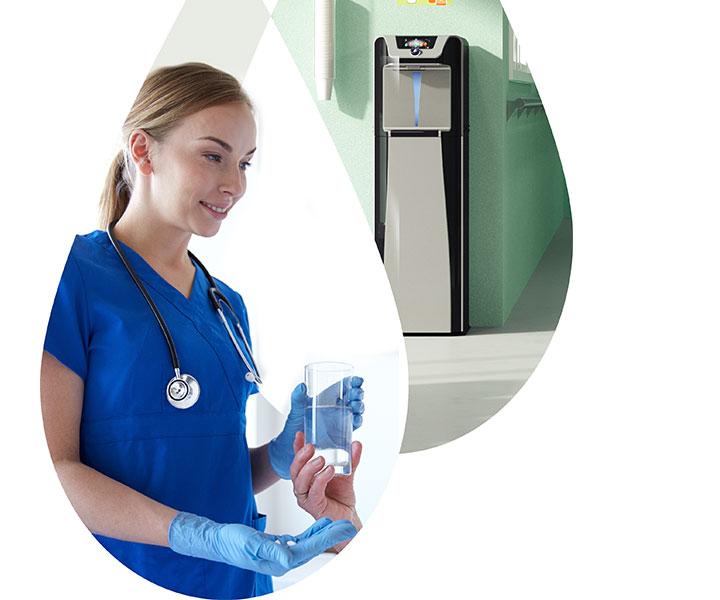 Premier contracted supplier
Waterlogic is proud to be a Premier contracted supplier for our proprietary technology that delivers unrivaled water purity.
Premier is a longtime leader in healthcare improvement who delivers transformative solutions that power real results. Premier combines robust analytics with consulting and advocacy to change the healthcare landscape for the better.
Waterlogic is the only player in the market to carry NSF/ANSI 55 Class A and P231 certifications, the standards used for microbiological water purifiers. This guarantees certified quality and integrity.
Our healthcare specialists will help you find the best solution to fit your needs.
What are the benefits of Waterlogic's water dispensers
Water dispensers for hospitals, clinics, and healthcare facilities
Not sure what you need?
Tell us some details about your venue and we'll help you find the right solution
Frequently Asked Questions
How do bottleless water dispensers for healthcare work?

Bottleless water dispensers for healthcare facilities work using water from an existing mains supply in the building. The water is pulled into the machine where it passes through a filtering system that removes all chlorine, sediment, volatile organic compounds (VOCs), taste and odor. The water is then dispensed once a user has activated the button, tap or lever.

Are Waterlogic water coolers for hospitals safe?

Waterlogic water dispensers for healthcare facilities are safe – so long as they are regularly cleaned and looked after in their working environment. Our dispensers offer 4 stages of protection; Firewall technology that eliminates up to 99.9999% of bacteria and viruses, BioCote purification which eliminates germs, carbon filters to remove harmful bacteria and hands-free options to prevent the spread of any viruses between users. Both staff and patients can feel reassured when using a Waterlogic water dispenser.

Are bottleless water dispensers for healthcare worth it?

Water dispensers are definitely worth it for your hospital or healthcare facility – they provide great tasting, sustainable and hygiene drinking water on demand for your staff and patients. We offer a wide range of different dispensers to suit the needs of all facilities, from small healthcare venues to large hospitals. You can even choose from Ambient, Cold, Hot, Extra Hot and Sparkling to ensure all requirements are met.

How long do Waterlogic water dispensers for hospitals last?

Water dispensers for healthcare facilities can last for many years with the right care and maintenance. At Waterlogic, we offer regular servicing and deep cleaning of your machine to ensure that it continues to dispense great-tasting, freshly-filtered water for your staff and patients.

How much do water dispensers for healthcare cost?

Depending on your requirements, the cost of a water dispenser can vary. The cost will depend on a few factors including the number of users, the water options required and the model chosen. We offer flexible solutions to suit all needs, and our expert team are on hand to help you find the right dispenser for your healthcare facility at the best cost. Take a look at our cost calculator to see just how much your business can expect to pay for an office water dispenser.

Do bottleless water dispensers for healthcare facilities save money?

Switching to a Waterlogic bottleless water cooler can help you to save up to 70% of your water costs. Our eco-friendly solutions draw water from your existing supply, which means that no bottles need to be purchased or stored on site. We also use innovative energy-saving technology that puts the machine into power-saving mode to reduce your energy costs. We offer purchasing and rental options, all designed to suit your specific requirements.

Where to buy or rent a water dispenser for a healthcare center?

We offer a range of Waterlogic water coolers designed to meet all requirements. Our water dispensers are suitable for use across a range of different sectors, including hospitality, education, retail and offices. Our expert team can help you find the perfect solution for your hydration needs. We have locations across the USA to provide a local service at a national level.

What is the best water dispenser for healthcare?

The best water dispenser for your healthcare facility will depend on your individual requirements. We offer a selection of different water dispensers to suit the needs of all types of healthcare venue, including small surgeries and large hospitals. Our product finder can help you find the perfect water dispenser for your workplace. Alternatively, you can contact us and a member of our expert team can help you to find the right dispenser for your workplace.
Why choose Waterlogic water dispensers for your hospitals and healthcare environments?
Purified water

Our patented Firewall® UVC technology purifies water up to 99.9999% and is scientifically proven to be effective against the human form COVID-19.

Touchless dispensing

Always protect your patients and healthcare staff with limitless access to clean and great-tasting water thanks to our touchless dispensing solution, available on all our water machines.

Limitless water

Our high capacity plumbed-in water coolers ensure your patients will have all the water they need when they need it without having to change any bottles.

Range

With Waterlogic, your patients can choose a combination of cold, hot, extra hot, ambient and sparking water options across our range of freestanding, countertop and integrated dispensers.
What people say about Waterlogic
"Our surgical center was looking for a way to reduce infection and contamination and Waterlogic's team delivered its hands-free WL2 FW tower along with foot pedals."
"Very happy outcome of upgrading our water coolers with the brand new machines. New machines look great, work great and water tastes great. Delivery and install were a breeze, install team was very friendly and professional. Very happy to work with Waterlogic."
"Thank you so much for the professional installation of our new water cooler! We're in LOVE with the cooler! We have hauled our last case of bottled water!!! We would definitely recommend Waterlogic!"
Technology that protects
Waterlogic's units are built with certified water purification systems to make sure your patients enjoy the safest hydration.
99.9999% purified water
Our revolutionary Firewall® UVC technology purifies up to 99.999% of bacteria and viruses and is now scientifically proven to be effective against the human strain of COVID-19. Firewall® treats hospital drinking water, obliterating germs just before the water reaches the glass, and it acts as a barrier to prevent bacteria and germs from entering the system and causing illness.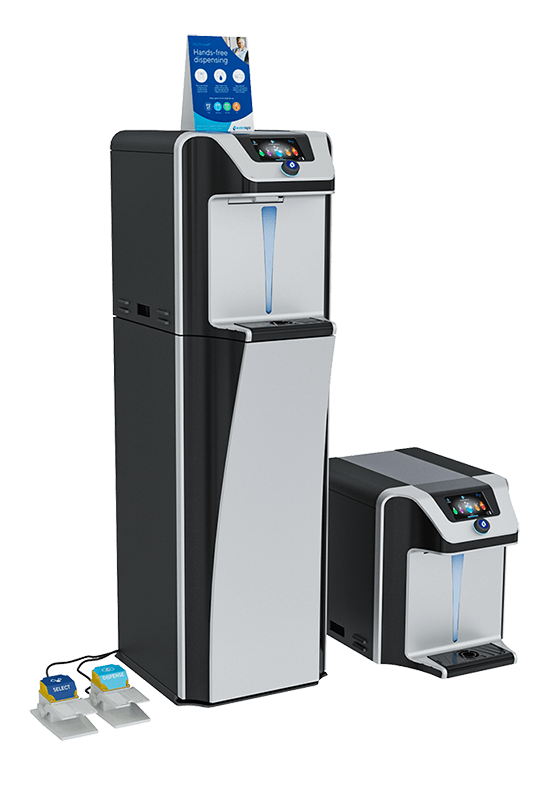 Filter, purify, protect
Tap water or traditional hospital water fountains can contain contaminants including pathogens such as Pseudomonas, Legionella, Streptococcus and E. Coli.
When it comes to healthcare, water quality must be of paramount importance. Especially among those who are immunocompromised and those high dependency patients in critical care units.
Whether you're looking to rent or buy, choose the right high-volume machine that meets your needs.
Comprehensive services you can trust
We build long-term relationships with all our customers. To keep your product performing at its best, our comprehensive services provide peace of mind with hassle-free installation and regular service and maintenance from our fully qualified technicians.
Touchless dispensing to reduce the spread of germs
Keep your patients safe and hydrated with our touchless solution. Our dispensers reduce the spread of germs in any healthcare environment with a completely hands-free operation.
Available with cold, ambient, hot, extra hot, and sparkling options

Color-coded foot-operated system
If you already own a Waterlogic unit, our team can help you update to a touchless system.
WL7 Firewall®
99.9999% purified water in an instant for the busiest hospital
The WL7 Firewall® is an advanced POU water dispensing system that combines refined engineering and high-tech features in a robust and reliable machine. The WL7 Firewall® (WL7 FW) can dispense up to five varieties of water, including a large volume of ice-cold and sparkling water.
Up to 99.9999% pure water
Firewall® UVC purification technology acts as a barrier at the point of dispense and safely purifies the water up to 99.9999%, reducing the risk of cysts, bacteria and virus, including COVID-19.
---
Foot pedal dispenser available
Reduce the need for hands touching the machine with added foot pedals. These can be ordered with the machine or can be requested when you contact us.
---
Ice Bath cooling technology
Our water cooling system is engineered to deliver glass after glass of highly purified ice-cold water to meet the needs of the most demanding environments.
---
Freestanding & countertop models
Available in 2 model choices should you have a preference on the amount of space it requires.
---
The world's most highly certified water dispensers
Our commitment to purity, quality and security is backed by independent third parties. We strive for excellence in everything we do here at Waterlogic. Our machines have been tried, tested and approved by the world's top standards bodies so you have complete confidence in our products.
NFS Protocol P231 Microbiological Water Purifiers
US EPA Standard Microbiological Water Purifiers
NSF/ANSI 372 for lead-free compliance
NSF/ANSI 55 Class A Ultraviolet Microbiological Water Treatment Systems
NSF/ANSI 42 Drinking Water Treatment Units Aesthetic effects
NSF/ANSI 53 Drinking Water Treatment Units Health effects
Helpful information and resources