At Waterlogic, everything starts with the way we think about water
Better thinking, better water, better for you, better for the planet
Behind every drop of Waterlogic water are years of knowledge, innovation and experience to deliver highly purified water in the safest, most sustainable and cost-effective way. Over 50 million people a day enjoy great-tasting water and service that is second-to-none.
Unrivaled purity
Enjoy great-tasting, purified water with every glass
Our unique technology is a big part of who we are and how we deliver purity and security in the most sustainable way, guaranteeing outstanding quality for your total peace of mind.
Patented Firewall® UVC technology is proven 99.999% effective against COVID-19.
BioCote® antimicrobial protection restricts the growth of bacteria and mould around the dispensing area.
High performance filters remove contaminants reducing unpleasant tastes and smells.
BioCote® technology does not protect users or others against disease causing bacteria, germs, viruses or other harmful organisms. This technology is not a substitute for good hygiene and/or cleaning practices. BioCote® has not been tested or proven effective against SARS-CoV-2.
Get safe, hygienic access to healthy hydration
Waterlogic's hygiene-first approach means you can achieve healthy hydration with maximum performance and hygiene in your workplace when you need it most.
Highly certified filtration, purification and antimicrobial technologies.

Contactless functionality to limit the spread of germs between users.

Easy-to-buy hygiene consumables and accessories for the workplace.

Aftercare service to keep your dispensers safely performing at their best.
Better for the planet
Products and services that are kinder to the environment
23.8 billion
Waterlogic products contribute to the reduction of 23.8 billion single-use plastic bottles each year.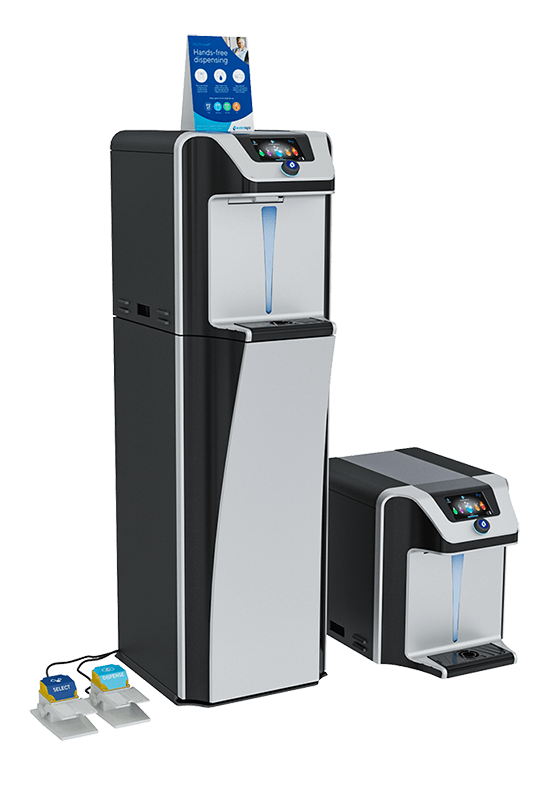 Reduce plastic pollution and save energy
Helping you to reduce plastic pollution and save energy mean a great deal to us. These are the driving forces keeping us focused on ensuring we meet your needs, and the needs of our planet too.
Waterlogic contributes to the reduction of 23.8 billion single-use plastic bottles each year.
We go out of our way to reduce energy consumption, eliminate emissions from unnecessary transportation, use non-toxic and natural materials and limit waste throughout our supply chain.
You benefit from up to 72% reduction in carbon footprint compared to a bottled water cooler.
The world's most highly certified water dispensers
Trust world-renowned certifications to prove water quality
Inspired by innovation and an environmental conscience, we embrace superior technologies to create cutting-edge products that are highly certified.
Independently tested and highly certified, guaranteeing outstanding standards of quality for your total peace of mind.
Our Firewall(R) UVC technology guarantees the world's highest standard of purification.
Experience care and expertise at every step.
We design, build and service our own products so you can enjoy unparalleled product quality and after-care that is second-to-none.
Start saving more and wasting less
Our dispensers utilise the mains supply into your building, meaning you don't pay twice for water. It also means you never have to worry about running out of water, wasting time and space re-ordering and storing bottles.
No hidden costs, enjoy the advantages of fixed monthly rates or buy outright.
No more wasting time and space re-ordering and storing bottles.
Enjoy a constant flow of water on tap, you'll never run out.