High tech water dispenser for Government offices
Waterlogic's range of mains-fed water dispensers and coolers offer a variety of options, cutting edge-purification technology, and unrivalled hygiene and safety features to satisfy the demands of any busy public sector office and premises.
Instant, hot, cold & sparkling water
Touchless dispensing for a safer hydration
High-volume machine with mains-fed system
Explore the unique advantages of our machines
Our wide range of high tech water dispensers are perfect for Government
Dispensers to suit your budget, your space and your hydration needs. From chilled to sparkling and freestanding to countertop, we've got you and your colleagues covered.
Not sure what you need?
Tell us what you're looking for and we'll find the right drinking water solution for your public sector office.
Choose rental or buying options for your Government premises
Rental
Rent for complete peace of mind with all our service packages:
Free and simple installation without disruption to business
Regular serving to keep our products performing as their best
Low monthly costs and flexible contracts
Account manager and engineers on hand
Buy
Buy to enjoy total flexibility and control, with optional service cover:
One time cost, own outright
Complete flexibility with what is done with the product
Service cover available to enjoy all the benefits of renting
Free and simple installation without disruption to business
Why choose Waterlogic water dispensers for the public sector or government facilities?
Waterlogic provides a full range of bottleless water coolers for every requirement.
Up to 99.9999% Pure

Firewall® UVC purification technology is tested and scientifically proven to be effective against the human form of COVID-19.

Safety first

Providing unrivalled water purity and hygiene for your Government office when you need it most, our hands-free solutions provide touchless access to clean, great-tasting water to keep you and your colleagues safely hydrated.

Eco-friendly

If you choose one of our bottle-free systems not only will you reduce your plastic waste, but our R600a natural cooling gas also reduces your carbon footprint.

Different water options

With Waterlogic you can choose a combination of cold, hot, extra hot, ambient and sparking water options across our range of freestanding, countertop and integrated dispensers.
A bespoke and safe water solution tailor-made for your public office
99.9999% purity
Firewall® UVC purification technology eliminates up to 99.9999% of bacteria and viruses from water and it's guaranteed effective against COVID-19.
Protecting users with innovative technology
Regardless of your Government environment, we can build a unique multi-site solution that suits your budget, water usage, and space and keeps users safely hydrated wherever they are.
Satisfy the needs of even the busiest Government offices
The WL7 Firewall® can dispense up to five varieties of water, including ambient, hot, extra hot and large volumes of ice-cold and sparkling water.
COVID-secure purification
Firewall® UVC purification technology acts as a barrier at the point of dispense and safely purifies the water up to 99.9999%, reducing the risk of cysts, bacteria and viruses, including COVID-19 (up to 99.999%).
---
Foot pedal dispenser available
Reduce the need for hands touching the water machine with added foot pedals. These can be ordered with the machine or can be requested when you contact us.
---
Ice Bath cooling technology
Engineered to deliver glass after glass of highly purified ice-cold water to meet the needs of the most demanding public sector offices.
---
Freestanding & countertop models
Available in 2 model choices should you have a preference on the amount of space it requires
---
Total Care service you can trust
We build long-term relationships with all our customers. To keep your product performing at its best our Total Care service provides peace of mind with hassle-free installation and regular servicing and maintenance from our fully qualified technicians.
Enhance your corporate social responsibility with Waterlogic
Reduce your reliance on single-use plastic
25.2 billion
That's how many single-use plastic bottles Waterlogic has saved from going into landfill or our oceans each year.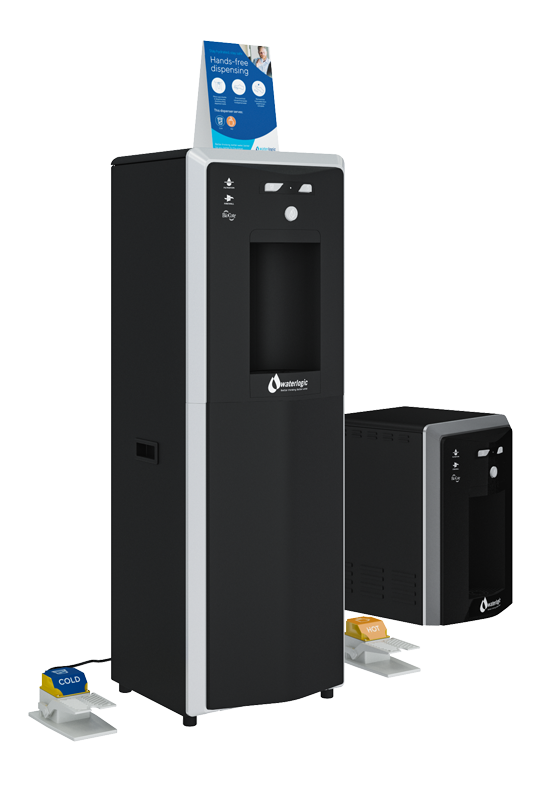 Better for you, better for the planet
Waterlogic offers a range of bottle free water dispensers to allow your workplace to hydrate whilst being kinder to the environment.
The world's most certified water dispensers for government offices
No other supplier carries out as many tests or owns as many certifications on their product range than Waterlogic. With over 20 internationally recognised certifications you know you're in safe hands.
Certificates may vary depending on different models or products.
Helpful information and resources