High tech water dispensers for office environments
Our innovative mains fed water dispensers for offices offer several water options such as hot, cold, and even sparkling water to meet the needs of all employees. We supply water machines to over 200,000 workplaces that are already enjoying unrivalled water purity and hassle-free service from the UK's leading workplace water dispenser provider.
Explore Waterlogic water coolers for office use
Office water solutions for every space & budget
See our selection of bottleless water coolers for offices and businesses. Our wide range of dispensers mean we can build a package that suits your needs and you budget. Whether you look for a solution with instant hot, chilled, or sparkling water, our freestanding and countertop machines have the features you need for any desired drinks during busy working hours.
Not sure what you need?
Use our product finder to help you choose the ideal product that adapts to your office space, number of employees, and type of water options needed.
Flexible rent or buy options available
Rental
Enjoy complete peace of mind with all our service packages:
Free and simple installation without disrupting your office
Regular maintenance to keep your products performing as its best
Low monthly costs and flexible contracts
Account manager and engineers there when you need them
Buy
If you'd prefer you can buy and enjoy total control:
One time cost, own outright
Enjoy complete flexibility with what you do with the product
Service cover available so you can enjoy all the benefits of renting
Free and simple installation without disrupting your working hours
Why choose Waterlogic water dispensers for your office?
With our expertise in supplying the best quality water solutions for large and small offices, you can provide your employees with the purest, safest, and best tasting water.
Up to 99.9999% pure

Firewall® UVC technology filters water up 99.9999% and is tested and scientifically proven to be effective against the human form of COVID-19.

Fresh water at work without the extra cost

Provide your employees with unlimited fresh water options saving up to 70%.

Flexible solutions

Our wide range of freestanding and countertop water coolers are designed to save space, without compromising quality or functionality.

Safe hydration for the whole team

As part of our innovative drinking water solutions, we supply hands-free foot operated machines to protect everyone at work.
Reduce your single-use plastic waste
Make a step to a more sustainable future by reducing single-plastic use in your workplace with a bottle free water cooler.
25.2 billion
That's how many single-use plastic bottles Waterlogic has saved from going into landfills or our oceans each year.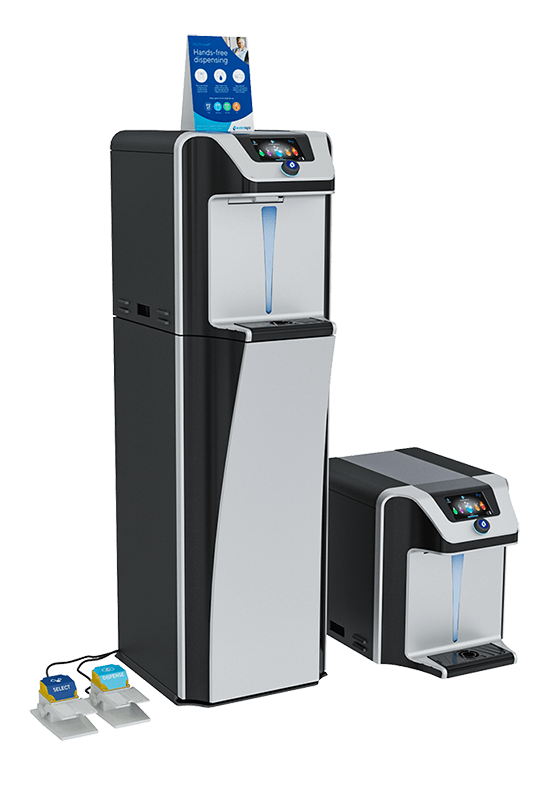 Better for you, better for the planet
Waterlogic offers a range of bottle free water dispensers to allow your staff access to filtered water in the office whilst being kinder to the environment.
Frequently Asked Questions
Find the answers to your frequently asked questions about office water dispensers below.
How do bottleless water dispensers for offices work?

Water dispensers for offices either draw water from the building's existing mains supply or use naturally sourced water from a bottle. Plumbed-in dispensers draw the water into the system where it passes through a two-stage activated-carbon filtering process. This filter removes any chlorine, sediment, volatile organic compounds (VOCs), taste and odour to the water, leaving only hygienic, great-tasting hydration that is released via the push of a button, dial or lever. Bottled water coolers offer fresh, naturally sourced water that tastes great every time. Both types of dispenser are operated through the use of a button, tap or lever.

Are Waterlogic water dispensers for offices safe?

Waterlogic water dispensers for offices are perfectly safe for your workers, so long as they are regularly cleaned and looked after. We offer added protection with our Firewall technology, which eliminates up to 99.9999% of bacteria, viruses and cysts such as Legionella, Salmonella, E.coli, Hepatitis and Rotavirus from drinking water. Waterlogic also offers innovative BioCote technology which works around the dispensing nozzle, the water reservoir and the filter housing to eliminate germs. Our machines come with optional hands-free technology to prevent your office staff from cross-contamination.

Are bottleless water dispensers for offices worth it?

If you're looking to provide your office workers with great tasting, freshly filtered, sustainable and hygienic hydration at work, then Waterlogic water dispensers are definitely worth it. We have a wide range of water dispensers designed to suit the needs of different sized offices spaces. With Waterlogic you can even choose from Ambient, Cold, Hot, Extra Hot and Sparkling, and there are high-capacity office water dispensers for the busiest offices with large numbers of staff.

How long do water dispensers for offices last?

Waterlogic water dispensers for offices can last for many years with the right care and maintenance. At Waterlogic, we offer a twice-a-year servicing and deep cleaning of plumbed-in water dispensers, and four-times-a-year serving for bottled dispensers to ensure they are working optimally all year round.

How much do water dispensers for offices cost?

The cost of water dispensers for offices can vary greatly depending on the requirements of your business. At Waterlogic, we offer flexible solutions to suit all office sizes perfectly, with different water options available to meet the needs of your office workers.

Do bottleless water dispensers for offices save money?

Switching to an eco-friendly Waterlogic water cooler can help your business to save up to 70% of your water costs. Our plumbed-in water dispensers use water from your building's existing supply, which means that no bottles of water need to be purchased and stored. We also offer bottled dispensers for environments with no mains supply, providing sterilised reused bottles that don't end up in landfill. Our dispensers also automatically enter power-saving mode when they are not in use, which reduces your energy costs. We offer flexible rental plans with no hidden costs, or you can purchase your machine for a single up-front cost.

Where to buy or rent a water dispenser for an office?

You can buy or rent a bottleless water dispenser for your office through Waterlogic. We have a wide range of water coolers available to buy that meet all requirements and are suitable for use across a range of different sectors, including hospitality, education, healthcare and government. We can help you find the perfect solution for your specific needs and we have locations across the UK to provide a local service at a national level.

What is the best water dispenser for an office?

The best water dispenser for your office depends entirely on your requirements. We have a wide variety of different water coolers to suit the needs of all workplaces. Our product finder can help you find the perfect water dispenser for your office. Alternatively, you can contact us and a member of our expert team can help you to find the right dispenser for your workplace.
These days, it's all about water quality and hygiene
With Waterlogic you can have both. Benefit from Firewall®, the world's most highly certified water purification technology, to keep your workforce safely hydrated. Coupled with BioCote® antimicrobial protection† on the outside, contactless solutions, easy-to-buy practical accessories and Total Care service, you'll have everything you need at your fingertips to guarantee total peace of mind in the workplace.
†BioCote® has not been tested or proven effective against SARS-CoV-2.
Total Care service you can trust
We build long-term relationships with all our customers. To keep your product performing at its best our Total Care service provides peace of mind with hassle-free installation and regular servicing and maintenance from our fully qualified technicians.
The WL7 Firewall®
Safer hydration at work with high volume COVID-secure water
The WL7 Firewall® can dispense up to five varieties of water, including a large volume of ice-cold and sparkling water. Ideal to satisfy all the hydration needs of even the busiest office.
99.9999% purified water
Firewall® UVC purification technology acts as a barrier at the point of dispense and safely purifies water up to 99.9999%, reducing the risk of viruses, cysts and bacteria.
---
Foot pedal dispensing available
Reduce the need for hands touching the machine with optional foot pedals. These can be ordered with the dispenser or requested when you contact us.
---
Ice Bath cooling technology
Engineered to deliver glass after glass of highly purified ice-cold water to meet the needs of the most demanding workplaces.
---
Plumbed-in water dispensers
Available in two sizes so you can choose the model that fits your space best.
---
Minimise the spread of germs in the office with a hands-free solution
Stay safer while you stay hydrated using water coolers with hands-free pedals. Our dispensers make it easy to keep a safe distance, reduce the spread of germs at work with completely hands-free operation using clearly colour-coded foot pedals.
Available with cold, ambient, hot, extra hot and sparkling options, your team can safely enjoy great-tasting water wherever your workplace. Already own a Waterlogic dispenser? Contact us to upgrade to touch-free operation.
The world's most certified water dispensers for offices
No other supplier carries out as many tests or owns as many certifications on their product range than Waterlogic. With over 20 internationally recognised certifications you know you're in safe hands.
Certificates may vary depending on different models or products.
Helpful information and resources