Healthcare water dispensers with unrivalled quality
Take even better care of your staff and your patients by providing pure, filtered water with our selection of water coolers and dispensers for hospitals and care environments. Perfect for the healthcare industry, Waterlogic offer a great range of products, from contactless solutions to purification technology for safe hydration.
Firewall® purification system to protect against bacteria and COVID-19.
BioCote® antimicrobial surface protection † to reduce the spread of germs.
Foot-operated dispensing for maximum hygiene.
†BioCote® has not been tested or proven effective against SARS-CoV-2.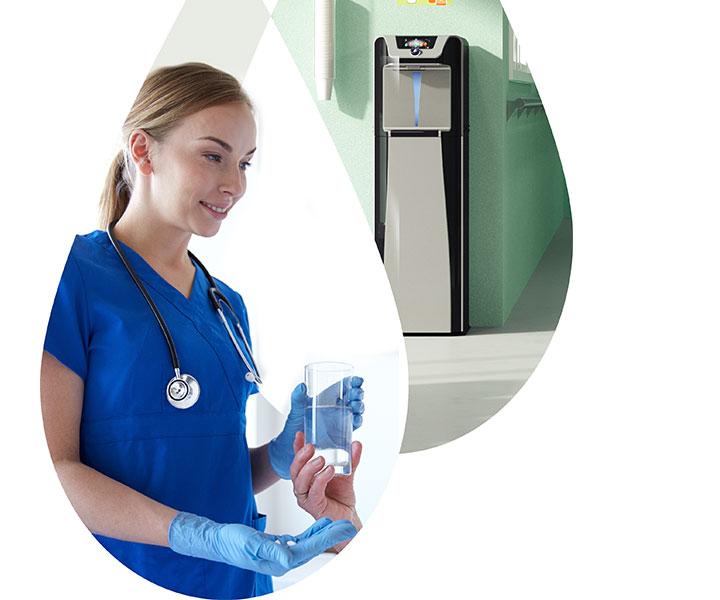 Learn more about the advantages of Waterlogic water dispensers for hospitals
Our selection of water dispensers for hospitals and healthcare environments
Access to clean and safe hydration is critical if you're providing care to vulnerable people. Waterlogic's high tech water dispensers can help provider safer water to patients, visitors and medical staff. All our machines provide unrivalled purified water with great taste and offer hot, chilled, and sparkling options. Depending on your space you can also choose from freestanding or countertop. Whatever your needs are, a water solution is here for you.
Not sure what you need?
Let us help you find the best water dispensing solution for your healthcare facility.
Flexible rent or buy options available
Rental
Enjoy complete peace of mind with all our service packages:
Free and simple installation without disrupting your office
Regular maintenance to keep your products performing as its best
Low monthly costs and flexible contracts
Account manager and engineers there when you need them
Buy
If you'd prefer you can buy and enjoy total control:
One time cost, own outright
Enjoy complete flexibility with what you do with the product
Service cover available so you can enjoy all the benefits of renting
Free and simple installation without disrupting your working hours
Why choose Waterlogic water coolers for your hospitals and healthcare facilities?
Purified water

Our patented Firewall® UVC technology purifies water up to 99.9999% of contamination and is scientifically proven to be effective against COVID-19.

Safe hydration

Providing unrivalled water purity and hygiene for your healthcare facility when you need it most, our hands-free solutions provide touchless access to clean, great-tasting water to keep your patients safely hydrated.

Never run out

Our high tech and high-capacity water machines can be connected to your building's mains water system to ensure your patients have all the water they need with no disruption.

Many water options in one machine

With Waterlogic your staff and your patients can choose from a combination of cold, hot, extra hot, ambient and sparking water options across our range of freestanding, countertop and integrated dispensers.
What people say about Waterlogic
Technology that protects
Be confident in you and your patients' safety when using Waterlogic water dispensers
Up to 99.9999% purified water
Our revolutionary Firewall® UVC technology purifies water up to 99.9999% and is now scientifically proven to be effective against the human strain of COVID-19.
Firewall® treats hospital drinking water, obliterating germs just before the water reaches the glass, and it acts as a barrier to prevent bacteria and germs from entering the system and causing illness.
Filter, purify, protect
Tap water or traditional hospital water fountains can often contain contaminants including pathogens such as Pseudomonas, Legionella, Streptococcus and E. Coli.
When it comes to aged care or the healthcare industry, water quality is of paramount importance. This becomes especially important among those patients or residents who are immunocompromised or high dependency patients in critical care units.
Whether you're looking to rent or buy, choose the right high-volume water cooler that meets your hospital's needs.
The all-in-one water dispenser perfect for the healthcare industry
The WL7 Firewall® is an advanced POU water dispensing system combines refined engineering and high-tech features in a robust and reliable machine.
With up to five water options from hot, cold, to sparkling water, this machine is ideal for hospital waiting rooms or cafeterias. Its high-capacity and fast dispensing prevent long waiting lines making it easier to keep a safe distance.
Up to 99.9999% pure water
Firewall® UVC purification technology acts as a barrier at the point of dispense and safely purifies the water up to 99.9999%, reducing the risk of cysts, bacteria and viruses, including COVID-19, perfect for healthcare environments.
---
Foot pedal dispenser available
Reduce the need for hands touching the water machine with added foot pedals. These can be ordered with the machine or can be requested when you contact us.
---
Ice Bath cooling technology
Engineered to deliver glass after glass of highly purified ice-cold water to meet the needs of the most demanding hospitals.
---
Freestanding & countertop models
Available in 2 model choices should you have a size preference based on the amount of space in your healthcare facility.
---
Frequently Asked Questions
Find the answers to your frequently asked questions about healthcare water dispensers below.
The world's most certified water dispensers for healthcare facilities
No other supplier carries out as many tests or owns as many certifications on their product range than Waterlogic. With over 20 internationally recognised certifications you know you're in safe hands.
Certificates may vary depending on different models or products.
Total Care service you can trust
We design, manufacture, distribute, install, and service our own benchtop water dispensers, so you can enjoy unparalleled product quality and highly responsive, comprehensive services, all under one roof.
Easy installation

Let us do the hard work for you. Our fully qualified technicians install your water cooler where and when you need it.

Regular servicing

We visit regularly to sanitise your dispenser and replace filters to ensure trouble-free operation and the highest quality water.

Professional maintenance

There's no need to worry. Our responsive service technicians will fix your countertop water dispenser, should something go wrong.

Nationwide coverage

Our friendly customer service team provide a responsive local service everywhere in the UK to ensure your needs are being met.
Helpful information and resources