Why millions choose Waterlogic
Our extensive and innovative range
From freestanding, countertop and instant hot water taps to bottled water coolers, water filling stations, fountains and boilers. We can build the perfect package for your business.
Need help finding your perfect product?
Try the Waterlogic product finder
Easily select the right dispenser for your needs by using our helpful product finder. Choose the right features you need and we'll filter down our range to one that's right for you.
Better thinking, better water™
Enjoy hands-free hydration and protect the hygiene of your workplace
Waterlogic offers a range of hands-free options, sanitisation services and products as well as safe workplace guidance to help prevent the spread of germs in the workplace whilst still enjoying great-tasting water.
Better for you
Firewall® is up to 99.999% effective in eliminating COVID-19
We deliver superior Firewall® UVC purification, BioCote® antimicrobial surface protection and high-performance carbon filtration to keep you safely hydrated.
†BioCote® has not been tested or proven effective against SARS-CoV-2.
Learn more about how our technology delivers unrivalled purity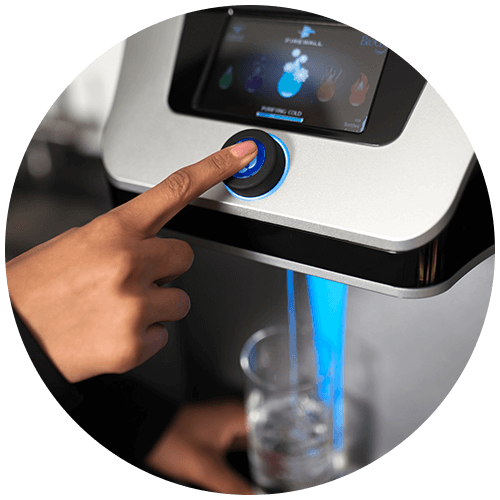 Better for the planet
Products & services kinder to the environment
25.2 billion
Waterlogic products contribute to the reduction of 25.2 billion single-use plastic bottles
Less plastic, less waste
From energy-efficient boilers, sustainable bottled water coolers and bottle-free freestanding and countertop dispensers. Choosing Waterlogic for your business is a better choice for the planet helping your organisation become more environmentally responsible.
Customer service you can trust
Join the thousands of customers that trust our support. We're committed to providing you with the best service possible no matter where you are in the UK.
National service delivered locally

With 19 Service locations across the UK and over 300 fleet engineers, we've got you covered

Expert servicing & maintenance

In the unlikely event something should go wrong, our responsive-call out team will be there to fix it.

Hassle free installation

Our fully qualified technicians install your water dispenser where and when you need it.

UK Based Customer Support

We have over 80 support-specialists available to contact via Live Chat, Telephone and email.
An innovative range of drinking water solutions
Our expert support team combined with a wide range of accessories can help with all your workplace hydration needs.
Experience greener solutions

Enjoy products that help reduce your single-use plastic waste

Subscribe and save options

Choose our cost-effective and convenient way of ordering.

Improve your office hygiene

Protect your workplace with our range of hygiene accessories.

There when you need us

Your dedicated account manager is on hand when you need them