Hands-free water dispensers for your office helping improve workplace hygiene
Whether you'd like to buy a touch free water dispenser with foot pedals or upgrade your current Waterlogic dispenser, we have the right options for you. Providing unrivalled water purity and hygiene, our contactless dispensing solutions provide touchless access to clean and great-tasting water to keep you safely hydrated.
Learn more about our hands-free solutions
Our hands-free water dispenser range
Are you looking for a safe water machine? Choose to buy or rent from a variety of no-touch water dispensers that offer different temperature options. From instant cold and hot water to even carbonated water, our innovative foot operated system will provide the right temperature for coffee, tea, or refreshment drinks with the maximum hygiene for the whole office. All our machines provide high-quality purification systems.
Not sure what you need?
Tell us what you're looking for and we'll find the right solution for you.
Flexible rent or buy options available
Rental
Enjoy complete peace of mind with all our service packages:
Free and simple installation without disrupting your day
Regular maintenance to keep your products performing as its best
Low monthly costs and flexible contracts
Account manager and engineers there when you need them
Buy
If you'd prefer you can buy and enjoy total control:
One time cost and you own outright
Enjoy complete flexibility with what you do with the product
Service cover available so you can enjoy all the benefits of renting
Free and simple installation without disrupting your day
What people say about Waterlogic
Learn how our contactless water coolers work
Enjoy safer hydration with our hands-free dispensing solutions
Touchless dispensing combined with social distancing measures and the powerful combination of Firewall ® UVC COVID-secure water purification and BioCote ® antimicrobial protection† help you achieve heightened safety from infection in the workplace. Our foot pedal options remove the need to touch buttons or dials, meaning less opportunity for germs to spread between colleagues.
†BioCote® has not been tested or proven effective against SARS-CoV-2.
The benefits of touchless dispensing
Reduce the spread of germs

Reduce the risk of cross-contamination between users with hands-free dispensing.

Easy to use

Innovative foot pedal dispensing with clearly marked labels. Simply press and pour for freshly purified and great-tasting water.

Mains water connected

Touchless dispensers are plumbed into your existing water supply, meaning no more deliveries, storing and sanitising heavy water bottles. Enjoy limitless, freshly filtered water at any time.

For any environment

Our hands-free dispensers are quickly installed by our qualified technicians wherever you want in any office or business environment.
Protect your workplace with Waterlogic
99.9999% purity
Firewall® UVC technology purifies water up to 99.9999% bacteria-free and is scientifically proven to be effective against the human strain of COVID-19.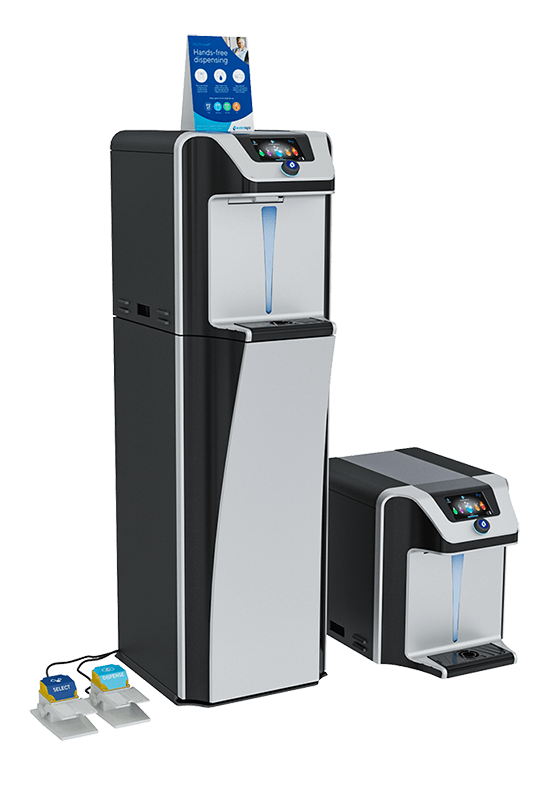 BioCote® reduces microbes up to 99.5% within 2 hours
Exclusive to Waterlogic, BioCote® built-in antimicrobial protection† restricts the growth of bacteria and mold around the dispensing area and filter, reducing the potential for cross-contamination and keeping the water dispenser fresher and cleaner for longer.
Add to that our hands-free foot operated water cooler and you can enjoy great-tasting purified water whilst avoiding the need to touch buttons or dials.
Exclusive to Waterlogic in the category for commercial use mains-fed drinking water dispensers and solutions.
†BioCote® has not been tested or proven effective against SARS-CoV-2.
Frequently Asked Questions
Find the answers to your frequently asked questions about hands-free water dispensers below.
How does a touchless water dispenser work?

Our touchless water dispensers are operated by the use of an innovative foot pedal system. The user can easily operate the contactless water cooler by simply pressing down on the clearly marked pedal that selects their choice of water – depending on the model chosen these options include Ambient, Cold, Hot, Extra Hot and Sparkling. This system removes the need for users to touch buttons or dials, which means there is less opportunity for germs to spread amongst colleagues.

Are touchless water dispensers safe?

Touchless water dispensers are safe – so long as they are regularly cleaned and looked after in their working environment. Touchless water dispensers remove the need for users to touch any buttons or dials, which minimises the opportunity for germs to spread between colleagues. For added safety, combine with our Firewall range to be protected by 4 stages of filtration – our carbon filter with contaminant reduction, Firewall purification, BioCote working around the dispensing nozzle, the water reservoir and the filter housing to eliminate germs. Our patented Firewall technology eliminates up to 99.9999% of bacteria, viruses and cysts such as Legionella, Salmonella, E.coli, Hepatitis and Rotavirus from drinking water, keeping you safely hydrated at all times.

Are hands-free water dispensers worth it?

If you're looking for great tasting, freshly filtered, sustainable and hygienic hydration at work then hands-free water dispensers are definitely worth it for your workplace. We have a wide range of touchless water dispensers for your specific needs, be it a small office space or a factory with 200+ staff. With Waterlogic you can even choose from Ambient, Cold, Hot, Extra Hot and Sparkling and there are high-capacity office water dispensers for the busiest workplace.

How long do hands-free water dispensers last?

Contactless water dispensers can last for many years with the right care and servicing. That's why we offer a twice-a-year servicing and deep clean to ensure your water dispensers are working to the best of their ability all year round.

Do contactless water dispensers save money?

Our range of contactless water dispensers can help you to save between 30-70% of your water costs. We have many options available to suit a variety of requirements, all of which can help you to cut down on water and energy costs. Our water coolers automatically go into energy saving mode which means a reduction for your business, and we offer fixed monthly rates on all of our rental plans which means there are no hidden costs.

Can contactless water dispenser work without electricity?

Here at Waterlogic, we offer a range of different water dispensers designed to suit all requirements. All of our contactless plumbed in water coolers require a connection to a power supply to provide great tasting filtered drinking water, but some of our bottled water coolers can be operated without an electrical connection. However, we do advise that units are regularly connected to a power supply to ensure the water is chilled correctly. Our skilled and experienced installers can help find the perfect location for your water dispenser.

Do touchless dispensers filter water?

Waterlogic's range of touchless water dispensers are designed to purify water straight from the source. Our water dispensers include a high-performance carbon filter that removes contaminants and neutralises bad taste and odour, while allowing naturally occurring minerals to pass through the filter. Our filters are eco-friendly, with 100% biodegradable cartridges and plastic housing that can be re-used with a new carbon element.

Where to buy hands-free water dispensers?

Here at Waterlogic, we have a range of hands-free water coolers available to buy that meet all requirements. Our water dispensers are suitable for use across a range of different sectors, including hospitality, education, healthcare and offices. With our expertise, we can help you find the perfect solution for your hydration needs. We have locations across the UK to provide a local service at a national level.
Helpful information and resources